CELAB Galactic Corporate Locations
The subject of this article is from the Desolation update.

The information from this article is up-to-date as of 22 September, 2020.
The subject of this article is from the Desolation update.
The information from this article is up-to-date as of 22 September, 2020.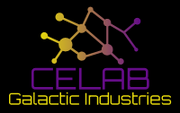 CELAB Corporate Locations provides a list of CELAB Galactic Industries Bases.
The CELAB Galactic Industries corporation has numerous locations throughout the Euclid galaxy. This page provides an index to those locations.
The following corporate locations are being used by CELAB Galactic Industries as of 13-May-2020:
LocCode1
MAJOR SUBSIDIARY
Galaxy
SYSTEM
PLANET
PRODUCTS/SERVICES
AE01
Celab Galactic Tientl Ammonia Works
Euclid
Tientl
Noiru
Ammonia, Salt, Fungal Mould collection
AE02
Celab Galactic Adurma Farms
Euclid
Adurma
Adurma Prime Water
Stasis device, Circuit Board, All farmable plants, mining, R&D, etc. Corporate Headquarters
AE03
Celab Galactic Adurma Phosphorus Sulphurine Industries
Euclid
Adurma
Adurma II
Phosphorus, Sulphurine collection
AE04
CELAB Galactic Retho PSI
Euclid
Retho Celab Prime
Retho Celab IV
Established 20-Feb-2020
AE05
CELAB Radiation Industries
Euclid
Edratf
Edratf Celab II
Radon, Uranium, Gamma Root collection
AE06
Celab Galactic Emeril Radon Production
Euclid
Umenod
Umenod I
Emeril, Radon collection
AE07
Celab Galactic AGT Liaison Office
Euclid
AGT Nexus
AGT Embassy
Propaganda, Scientific research sharing
AE08
CELAB Galactic Omvarv Trading Post
Euclid
Omvarv
New Rakian
Traveller trading focused
AE09
Celab Galactic Dinopark
Euclid
AGT Nazaifus
Cel-Nazaifus I
Rangifae/diplos sightseeing
AE10
CELAB Galactic Vy'kea Liaison Office
Euclid
Mariner-Urtraali
Daysnodle Beta
Capilliary Shell collection. Business liaison with Vy'Kea Furniture Company
AE11
CELAB Galactic Goldcaddy
Euclid
Okinna
Okinna I-GoldCaddy
Gold, Cadmium, Magnetised Ferrite collection
AE12
CELAB Galactic Agutissye Trade Port
Euclid
AGT Celab Zeta
Celab Zeta III
Trading resources, R&R
AE13
CELAB Galactic KA Liaison Office
Euclid
Korvaxu
KAscendancy Sol
Propaganda, Scientific research sharing
AE15
CELAB Galactic Midway Skybase
Euclid
Cel-Midway III
AGT Cel-Midway
Orbital supplies, R&R
AE16
CELAB Galactic Euclid Center
Euclid
Ershoy-Sod XV
Cel-Ershoy I
AE17
CELAB Galactic Unity 2019
Euclid
Unification Day 2019 (PC)
Unity XIX Alpha
Representative to Unification Day 2019 event
AE18
CELAB Galactic Fever Cloud
Euclid
AGT Netveri
Fever Cloud
Observation and regional exploration
AE19
CELAB Galactic Yihelli Microcolony
Euclid
AGT Tamnavulin
Cel-Tamnavulin I
AGT Yihelli Quadrant Micro-colony Initiative
Salt, Nitrogen production & collectors.
AE20
CELAB Galactic Alderaan
Euclid
Viky. xD (WM22 System)
Alderaan
Observation and regional exploration
AE21
CELAB Galactic AGT Tribute
Euclid
AGT Ikrogra-Uvs
AGT Arhunge M44
AGT Third Anniversary
Oxygen, Salt production & collectors
AE22
CELAB Galactic Vampires Lair
Euclid
What We Do In The Shadows
Nandor The Relentless
Weekend Mission 28
Radon production & collectors
AE23
Temple of the Great Atlas
Euclid
Baxx
Nebari Prime
Weekend Mission Season 2-04
A Great Atlas Worship temple
AE24
AGT Data Intelligence Protection Center
Euclid AGT Rayskyv-Obor (PC)
Apardan IX (PC)
Silver, Oxygen, Phantom star
BE01
CELAB Galactic Brewski Cel-Cew
Euclid
AGT Cel-Cew Alpha
Cel-Cew Alpha II
R&R
BE02
CELAB Galactic Cel-Cew Pyrite Sulfur Industries
Euclid
AGT Cel-Cew Beta
Cel-Cew Beta I-A
Ammonia, Pyrite, Sulphurine, Echinocactus production
BE03
CELAB Galactic Cel-Cew SilverRadon Company
Euclid
AGT Cel-Cew Delta
Cel-Cew Delta II
Silver, Radon production
CE01
CELAB Galactic SpicySalsa
Euclid
AGT Cel-SpicySalsa
Cel-SpicySalsa I
HQ Starfleet Division C
AH01
CELAB Galactic Hilbert Outpost
Hilbert Dimension
AGT Cel-Idjacta
Cel-Idjacta III
Traveler support services outpost
1LocCode is for internal CELAB Galactic administration use only.
| Name | Planet | System | Region | Galaxy | Coordinates | Portal glyphs | Civilized | Builder | Platform | Mode | Game release | Farm | Geobay | Arena | Landing pad | Racetrack | Terminal |
| --- | --- | --- | --- | --- | --- | --- | --- | --- | --- | --- | --- | --- | --- | --- | --- | --- | --- |
| AGT Data Intelligence Protection Center | Apardan IX (PC) | AGT Rayskyv-Obor (PC) | Yihelli Quadrant | Euclid | 043D:0072:0D44:0239 | 0239F3545C3E | CELAB Galactic Industries | celab99 | PC | Normal | Desolation | N | Y | N | Y | N | N |
| Celab Galactic Adurma Farms (Beyond) | Adurma Prime Water | Adurma | Fiquencha | Euclid | 0EA9:0079:0633:003D | 003DFAE346AA | CELAB Galactic Industries | celab99 | PC | Normal | Visions | YES | YES | No | YES | NO | YES |
| Celab Galactic Adurma Farms (Visions) | Adurma Prime Water | Adurma | Fiquencha | Euclid | 0EA9:0079:0633:003D | 003DFAE346AA | CELAB Galactic Industries | celab99 | PC | Normal | Visions | YES | YES | | YES | NO | YES |
| Celab Galactic Adurma Farms | Adurma Prime Water | Adurma | Fiquencha | Euclid | 0EA9:0079:0633:003D | 003DFAE346AA | CELAB Galactic Industries | celab99 | PC | Normal | Living Ship | YES | YES | | YES | NO | YES |
| Celab Galactic Adurma Phosphorus Sulphurine Industries | Adurma II | Adurma | Fiquencha | Euclid | 0EA9:0079:0633:003D | 003DFAE346AA | CELAB Galactic Industries | celab99 | PC | Normal | Visions | NO | YES | | YES | NO | YES |
| Celab Galactic AGT Liaison Office | AGT Embassy | AGT Nexus | Yihelli Quadrant | Euclid | 043D:0072:0D44:005F | 005FF3545C3E | CELAB Galactic Industries | celab99 | PC | Normal | Desolation | NO | YES | | YES | NO | NO |
| CELAB Galactic AGT Tribute | AGT Arhunge M44 Looking for celebration | AGT Ikrogra-Uvs | Yihelli Quadrant | Euclid | 043D:0072:0D44:0003 | 1003F3545C3E | CELAB Galactic Industries | celab99 | PC | Normal | ExoMech | | No | No | Yes | No | No |
| CELAB Galactic Agutissye Trade Port (Visions) | Celab Zeta III | AGT Celab Zeta | Agutissye Quadrant | Euclid | 0A78:0082:02C8:00E9 | 00E903AC9279 | CELAB Galactic Industries | celab99 | PC | Normal | Visions | NO | NO | | YES | NO | YES |
| CELAB Galactic Agutissye Trade Port | Celab Zeta III | AGT Celab Zeta | Agutissye Quadrant | Euclid | 0A78:0082:02C8:00E9 | 00E903AC9279 | CELAB Galactic Industries | celab99 | PC | Normal | Living Ship | NO | NO | | YES | NO | YES |
| CELAB Galactic Alderaan | Alderaan | Viky. xD (WM22 System) | Oklipnerow Expanse | Euclid | 0161:0079:061A:0072 | 0072FAE1B962 | CELAB Galactic Industries | celab99 | PC | Normal | Living Ship | No | No | No | No | No | No |
| CELAB Galactic Brewski Cel-Cew | Cel-Cew Alpha II | AGT Cel-Cew Alpha | Cewhea Mass | Euclid | 05E3:007A:0168:000D | 000DFB969DE4 | CELAB Galactic Industries | celab99 | PC | Normal | Synthesis | Yes | Yes | No | Yes | No | Yes |
| CELAB Galactic Cel-Cew Pyrite Sulfur Industries | Cel-Cew Beta I-A | AGT Cel-Cew Beta | Cewhea Mass | Euclid | 05E3:007A:0168:000C | 000CFB969DE4 | CELAB Galactic Industries | celab99 | PC | Normal | Living Ship | No | No | No | Yes | No | Yes |
| CELAB Galactic Cel-Cew SilverRadon Company | Cel-Cew Delta II | AGT Cel-Cew Delta | Cewhea Mass | Euclid | 05E3:007A:0168:01BC | 01BCFB969DE4 | CELAB Galactic Industries | celab99 | PC | Normal | Living Ship | N | N | N | Y | N | Y |
| Celab Galactic Dinopark | Cel-Nazaifus I | AGT Nazaifus | Moccoye | Euclid | 040B:0069:0D43:00FD | 00FDEA544C0C | CELAB Galactic Industries | celab99 | PC | Normal | Synthesis | NO | YES | | YES | NO | YES |
| Celab Galactic Emeril Radon Production | Umenod I | Umenod | Racenuksmi | Euclid | 0E9F:0079:063A:00D2 | 0E9F:0079:063A:00D2 | CELAB Galactic Industries | celab99 | PC | Normal | Visions | NO | YES | | YES | NO | NO |
| CELAB Galactic Euclid Center | Cel-Ershoy I | Ershoy-Sod XV | Neseyus Adjunct | Euclid | 07FB:007D:0806:002C | 002CFE007FFC | CELAB Galactic Industries | celab99 | PC | Normal | Synthesis | No | Yes | No | Yes | No | Yes |
| CELAB Galactic Fever Cloud | Fever Cloud | AGT Fever Cloud | Yihelli Quadrant | Euclid | 043D:0072:0D44:01D0 | 01D0F3545C3E | CELAB Galactic Industries | celab99 | PC | Normal | Living Ship | N | Y | N | Y | N | Y |
| CELAB Galactic Goldcaddy | Okinna I-GoldCaddy | Okinna | Cudonok Band | Euclid | 0E06:0079:067F:012F | 012FFAE80607 | CELAB Galactic Industries | celab99 | PC | Normal | Beyond | NO | YES | NO | YES | NO | NO |
| CELAB Galactic Hilbert Outpost | Cel-Idjacta III | AGT Cel-Idjacta | Swatea Shallows | Hilbert Dimension | 0183:0083:07B5:00B0 | 00B004FB6984 | CELAB Galactic Industries | celab99 | PC | Normal | Living Ship | N | N | N | Y | N | Y |
| CELAB Galactic KA Liaison Office | Korvaxu | KAscendancy Sol | Inakes Nebula | Euclid | 063D:0081:0133:0037 | 003702934E3E | CELAB Galactic Industries | celab99 | PC | Normal | Visions | No | Yes | No | Yes | No | Yes |
| CELAB Galactic Midway Skybase | Cel-Midway III | AGT Cel-Midway | Yuquixi Terminus | Euclid | 08F2:007E:0B52:0223 | 0223FF3530F3 | CELAB Galactic Industries | celab99 | PC | Normal | Beyond | No | No | No | Yes | No | Yes |
| CELAB Galactic Omvarv Trading Post | New Rakian | Omvarv | Ubcanu | Euclid | 0E34:0079:0A78:0060 | 0060FA279635 | CELAB Galactic Industries | | PC | Normal | Synthesis | NO | YES | | YES | NO | NO |
| CELAB Galactic Retho PSI | Retho Celab IV | Retho Celab Prime | Fiquencha | Euclid | | 0012FAE346AA | CELAB Galactic Industries | | PC | Normal | Living Ship | No | Yes | No | Yes | No | Yes |
| Celab Galactic Retho Pyrite Sulphur Industries | Retho Celab IV | Retho Celab Prime | Fiquencha | Euclid | 0EA9:0079:0633:0012 | 0012FAE346AA | CELAB Galactic Industries | celab99 | PC | Normal | Beyond | YES | YES | | YES | NO | YES |
| CELAB Galactic Tall Egg Harvest Station | Adoragab VII | Yes I can hear you... | Sughsie | Euclid | 039A:0084:029F:0148 | 014805AA0B9B | CELAB Galactic Industries | celab99 | PC | Normal | ExoMech | Y | N | N | Y | N | N |
| Celab Galactic Tientl Ammonia Works | Noiru | Tientl | Fiquencha | Euclid | 0EA9:0079:0633:004B | 004BFAE346AA | CELAB Galactic Industries | | PC | Normal | Desolation | N | Y | N | Y | N | Y |
| CELAB Galactic Unity 2019 | Unity XIX Alpha | Unification Day 2019 (PC) | Tubiak Conflux | Euclid | 042F:0077:0D4B:0096 | 0096F854CC30 | CELAB Galactic Industries | celab99 | PC | Normal | Synthesis | No | Yes | No | Yes | No | Yes |
| CELAB Galactic Vampires Lair | Nandor The Relentless | What We Do In The Shadows | Iftihra Nebula | Euclid | 0953:007A:0ED0:0153 | 0153FB6D1154 | CELAB Galactic Industries | celab99 | PC | Normal | ExoMech | Yes | Yes | No | No | No | No |
| CELAB Galactic Vy'kea Liaison Office | Daysnodle Beta | Mariner-Urtraali | Exhuan | Euclid | 0432:0078:0D52:0001 | 0001F9553C33 | CELAB Galactic Industries | celab99 | PC | Normal | Synthesis | NO | YES | | YES | NO | YES |
| CELAB Galactic Yihelli Microcolony | Cel-Tamnavulin I | AGT Tamnavulin | Yihelli Quadrant | Euclid | 043D:0072:0D44:0039 | 2039F3545C3E | Alliance of Galactic Travellers | celab99 | PC | Normal | ExoMech | No | No | No | No | No | Yes |
| CELAB Radiation Industries | Edratf Celab II | Edratf | Fiquencha | Euclid | 0EA9:0079:0633:0065 | 0065FAE346AA | CELAB Galactic Industries | celab99 | PC | Normal | Desolation | NO | YES | | YES | NO | YES |
| Temple of the Great Atlas | Nebari Prime | Baxx | Petult Shallows | Euclid | 0177:0078:09D9:01F4 | 01F4F91DA978 | CELAB Galactic Industries | celab99 | PC | Normal | Crossplay | No | No | No | Yes | No | No |
CELAB Galactic Industries
[
edit source
]

Bases * Explorations * Starfleet * Large Fauna * Fauna * Multi-tools * Starships
Discord Instagram Twitter Facebook YouTube Reddit:celabgalactic
Portal Repository NMSSocial Atlas Codex