Chdad
Chdad is a planet in No Man's Sky.
Chdad is a planet in the Jabberwocky Viridans star system on the PS4 version of No Man's Sky universe. The planet has become the academic center of the system, boasting multiple archives, include the Twin Archives of Data Store A/R77.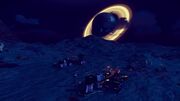 None
None known at this time
Point Iashigarey has a manufacturing factory at +44.37, -115.60
Musaka Platform has a holocomm tower at +21.34, -144.51
Sesaka's Graveyard is the location of another factory
Plains of Yachigaha has an operations centre at +7.95,+105.73
Yanasug's Wilds
Muraia's Graveyard
The Ninoom Flats
Kuyamadan's Drift
Windswept Plains of Zukais
The Yubar
The Gameya Levels has a local Trade Post at +19.89, +132.53
Gek
The following resources can be found on this planet.