As part of the Unified Community Platform project, your wiki will be migrated to the new platform in the next few weeks. Read more here.
Currency
The subject of this article is from the Desolation update.

The information from this article is up-to-date as of 22 September, 2020.
The subject of this article is from the Desolation update.
The information from this article is up-to-date as of 22 September, 2020.
Currency is a game reference page.

The main currencies in the game are Units, Nanites and Quicksilver.
There are various ways of earning each of these. Below are a few of the most profitable methods of increasing your currency counts.
Crashing a market involves selling large amounts of any material or trade commodity and buying it back at the prices reduced up to 80%. The best commodity to use for crashing a market is by far Cobalt. At ~200 units per item it is valuable enough, and every Space station sells it. This is important, because you can only buy back the commodity that a current terminal sells. The big advantage of Cobalt is that you can mine sufficient amount to start market crashing in caves on your starting planet. 2,000 is the minimum amount recommended, although you will have some gains from as little as 1,000. When the Cobalt amount at your disposal increases to 10,000 (one full stack), you will get ~1.6M
by selling this stack and buying it back.
After the Star system market is crashed, you may be able to buy additional amounts of Cobalt from NPCs landing in the Space station. By quickly jumping between Space stations and crashing the Cobalt market it is possible to earn up to 4 billion
in less than 24 hours of game time, and completely upgrade your Exosuit storage at the same time. Adding other high value materials (Gold, Silver, Platinum, Ionised Cobalt, and Chlorine) to your inventory can further increase the profits, but these can only be sold at the station that already sell them.
Wiring Looms were also a very popular market crashing commodity, until in Synthesis two prices were introduced: 25,000
for selling, and 50,000
for buying, which requires a very large amount of them to crash the market to a profitable level (300-400), which in turn requires at least 15M initial investment, and at least 2 purchases from tier 3 economies. Still, it is a useful commodity in Survival and Permadeath game modes where material stacks are limited to 250/500, so a full stack of Cobalt can only bring ~80,000
vs ~7.5M
for a stack of Wiring Looms.
Installing Scanner Upgrades
[
edit
|
edit source
]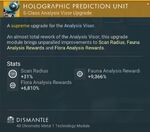 One of the first things you should aim to get for one of your multi-tools are some upgrades for your scanner.
When scanning Flora, Fauna, and Minerals in game, you receive units for a completed scan.
You can also earn nanites for uploading them from the Discovery menu.
The amount you earn per scan can be drastically improved by installing scanner upgrade modules.
Each module can add up to a 9999% bonus to those scans for flora, fauna or both.
With three S-class scanner upgrade modules, typical rewards for scanning flora is 60-75,000
, and 130-150,000
for scanning common fauna. Uncommon fauna yields 1.5 as much, rare fauna -3 times as much.
As a result, each planet thoroughly scanned can bring 1-3M
.
Stacking Space Station Missions
[
edit
|
edit source
]
Many of the missions available at the Space station Mission Board actually stack with each other, allowing you to complete many of them by completing just the one.
For example, killing 18 fauna will complete all missions that ask you to kill less than 18 fauna.
Here is a list of the missions available & whether or not they stack:
To gain access to all of the missions, you may need to raise your standing with each faction.
You can do so by giving gifts to NPCs and by completing the missions you already have access to. Most missions reward +1 to standing, though some higher ranking missions reward +2. Missions from the guild envoy award +5 to standing.
You lose 1 standing if you cancel a delivery mission.
Mission requirements are (Mission Rank/Standing Needed):
1/3 2/8 3/14 4/21 5/30 6/40 7/60 8/100
Trading Between Economic Systems
[
edit
|
edit source
]
Star systems have different Economy types. There are Trade routes that you can use to buy items in one system at low prices and sell those items at high prices in the next system.
There are seven types of economy and every system has one. The type of economy that a system has will not affect its economic status nor its Sell/Buy stats. Each system also has its own "icon" depending on its economy type.
Trade route A: Scientific -> Trading -> Advanced Materials -> Scientific
Trade route B: Mining -> Manufacturing -> Power Generation -> Technology -> Mining
TRADING ITEMS
Icon
Producing Economy
Economy Names
Commodity Type
Tiers
Trade Route A
Trading Economy
Mercantile

Trading

Shipping

Commercial

Trade Commodity

Advanced Materials Economy
Material Fusion

Alchemical

Metal Processing

Ore Processing

Advanced Construction Materials

Scientific Economy
Research

Scientific

Experimental

Mathematical

Scientific Components

Trade Route B
Mining Economy
Mining

Minerals

Ore Extraction

Prospecting

Tradable Minerals

Manufacturing Economy
Manufacturing

Industrial

Construction

Mass Production

Industrial Components

Technology Economy
High Tech

Technology

Nano-construction

Engineering

Technology Parts

Power Generation Economy
Power Generation

Energy Supply

Fuel Generation

High Voltage

High Electric

Tradable Energy Source
Once you have a freighter, you can purchase frigates and send them on expeditions.
These expeditions consist of a series of encounters. Most, but not all, of these encounters will be of the same type as the mission (combat, exploration, industrial, or trade).
Each encounter, if passed (rather than failed), will award items, units and/or nanites to each frigate in your expedition.
If failed, each encounter has a chance to damage any or all frigates in your expedition and potentially add a negative trait to any of them.
Sending out frigates that have negative traits on them can cause encounters to fail more easily, and therefore pass negative traits onto other frigates.
Possible Rewards Per Mission Type [Under Construction - testing]
Possible Rewards Per Mission Type
Mission Type ->
Combat
Exploration
Industrial
Trade
Normal Resources
Magnetised Ferrite

Chromatic Metal

Rare Resources
Indium
Indium
Stellar Resources
( Activated Copper ) ?

( Activated Cadmium ) ?

Activated Emeril

Activated Indium

Activated Copper
Activated Copper

Activated Cadmium

( Activated Emeril ) ?

( Activated Indium ) ?

Race Curiosities
Gek Relic

Korvax Casing

Vy'keen Effigy

( Gek Relic ) ?

Korvax Casing

Vy'keen Effigy

Gek Relic
GekNip

Gek Relic

Korvax Casing

( Korvax Convergence Cube ) ?

Vy'keen Effigy

Rare Curiosities
Sac Venom
Sac Venom

Vortex Cube

Albumen Pearl
Material Rocks
Carbon Crystal

Chloride Lattice

Superoxide Crystal

Carbon Crystal
Rare Metal Element

Superoxide Crystal

Rocks
Herox

Magno-Gold

( Aronium ) ?

( Magno-Gold ) ?

( Aronium ) ?

Dirty Bronze

( Herox ) ?

Lemmium

( Magno-Gold ) ?

Grantine

Final Rocks
Geodesite
( Geodesite ) ?

Iridesite

( Geodesite ) ?

Iridesite

High End Crafting
Semiconductor
Hot Ice
Organic Catalyst
Trade Commodities
Re-latticed Arc Crystal
Superconducting Fibre
Treasures
Biological Sample
Delicate Flora
Biological Sample
Constructed Technology
Salvaged Frigate Module
Storage Augmentation
Storage Augmentation
Balanced (awards a mixture of the above rewards)
High End Crafting (Stasis Device / Fusion Ignitor)
[
edit
|
edit source
]
High End Crafting items (Stasis Device / Fusion Ignitor) can sell for around 16 million units each.
You can create these using a variety of items that you can create or win from missions at the Space Station and the Nexus on the Space Anomaly.
Stage Two - Gases
Gases
Sulphurine x250
Radon x250
Nitrogen x250
Plus
Condensed Carbon x50
Equals
Thermic Condensate

(Value 50,000)

Enriched Carbon

(Value 50,000)

Nitrogen Salt

(Value 50,000)

Thermic

Condensate

Enriched

Carbon

Nitrogen

Salt

Thermic

Condensate

X
Organic Catalyst

(Value 320,000)

Semiconductor

(Value 400,000)

Enriched

Carbon

X
X
Hot Ice

(Value 320,000)

Thermic

Condensate

Enriched

Carbon

Nitrogen

Salt

Organic

Catalyst

X
X
Fusion Accelerant

(Value 1,500,000)

Semi-

conductor

X
Superconductor

(Value 1,500,000)

X
Hot

Ice

Cryo-Pump

(Value 1,500,000)

X
X
Stage Four - Merging
Tier 2 Items

& Gas Items ->

Liquid

Explosive

Fusion

Accelerant

Circuit

Board

Super-

conductor

Living

Glass

Cryo-

Pump

Tier 3 Items

V

Portable Reactor

(Value 4,200,000)

Quantum Processor

(Value 5,200,000)

Cryogenic Chamber

(Value 3,800,000)

Geodesite
Fusion Ignitor

(Value 15,600,000)

x
Iridesite
x
Stasis Device

(Value 15,600,000)
Industrial Mining (Hotspots)
[
edit
|
edit source
]
You can buy a Survey Device blueprint for your Multi-Tool, which allows you to find the locations of Hotspots on planets. On these spots you can create Industrial Mining Facilities and link them back to your main base (as long as it is less than 1050u away from the hotspot). These will not only replenish your supply of most of the game's main resources and gases, but can supply such an excess of these materials that you can make a very large profit selling the excess. Activated Indium is considered to be the most profitable.
On each planet, you can reach a power, concentrated gas and oxygen hotspot, as well as all three resource hotspots, from wherever you choose to place your base computer. They may differ in class, but all will be reachable, all six being included in the 16+ hotspots that populate the 1050u circumference from any given spot.