Essturhinrakos 3-OUWE
The subject of this article is from the Atlas Rises update.

The information from this article is up-to-date as of 23 July, 2018.
The subject of this article is from the Atlas Rises update.
The information from this article is up-to-date as of 23 July, 2018.
Essturhinrakos 3-OUWE is a planet in No Man's Sky.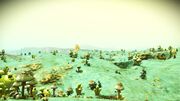 Essturhinrakos 3-OUWE is a large planet in the star system of CF8Afg6G-078 Bleestkel on the PC version of No Man's Sky universe.
Its distance to the system's station is about 1,229 ks.
Day
22.5 °C
1.4 Rad
65.6 Tox
Night
14.6 °C
0.2 Rad
69.4 Tox
Cave
16.8 °C
0.1 Rad
8.1 Tox
Essturhinrakos 3-OUWE features Fungal Mould, Gold and Iridium.
Essturhinrakos 3-OUWE houses 6 species of fauna. A full zoology scan awards a 150,000 Unit bonus.
Name
Image
Genus
Rarity
Temperament
Diet
Gender
Weight
Height
Land
Aleopatisis Secuel
Felidae
Rare
Amenable
Grazing creature
Female
282.98 kg
6.26 m
Orthogonal
277.60 kg
6.09 m
Davalegisera Lofec
Procavya
Rare
Docile
Grazing creature
Radical
182.65 kg
3.51 m
Vectorized
174.46 kg
3.44 m
Ibyciasceumica Ubjugu
Felidae
Uncommon
Unconcerned
Vegetation
Exotic
80.72 kg
1.79 m
Radical
70.44 kg
1.64 m
Wadewaeum Teiru
Anastomus
Uncommon
Skittish
Oxide elements
Radical
46.99 kg
0.87 m
Rational
60.32 kg
1.00 m
Air
Nisseumica Inla
Agnelis
Uncommon
Hibernator
Vegetation
Alpha
66.98 kg
1.29 m
Aedoea Inla
Agnelis
Uncommon
Unintelligent
Absorbed nutrients
Male
89.50 kg
1.20 m
At least 20 flora varieties exist on Essturhinrakos 3-OUWE.
Name
Image
Age
Root structure
Nutrient source
Notes
Elements
Mushrooms (large)
Ubotium Finamitea
Sproutling
Global
Gas Clouds
Self-Propagating
Carbon
Usetica Daganuoposa
Ancient
Irregular
Salt Fusion
Rapidly Mutating
Carbon
Roditasium Hutelima
Millenia
Conventional
Gas Clouds
Extremely Poisonous
Carbon
Atolum Rifoe
Seasoned
Bi-directional
Meditation
Meaty Roots
Carbon
Mordite
Stem plants
Ledriae Yecuseus
Indeterminate
Inorganic
Photosynthesis
Movement Prone
Carbon
Sasonae Cicestoe
Mature
Efficient
Sunlight
Tiny Hairs
Carbon
Seweum Rynothosa
Seasoned
Obtuse
Salt Fusion
Altitude Tolerant
Carbon
Nusmiasica Hitissia
Still Growing
Grasping
Atmospheric Moisture
Rapidly Mutating
Carbon
Laeum Oriplii
Still Growing
Swamped
Radio Waves
Blight Resistant
Carbon
Radon
Thnoe Igesindoe
Seasoned
Stunted
Photosynthesis
Caustic Sap
Carbon
Radon
Uideum Yongrimica
Sapling
Significant
Natural Carbon
Photosensitive Tendrils
Carbon
Fifamia Hukkima
Seasoned
Symbiotic
Sunlight
Mouldy Bulbs
Carbon
Coprite
Mushrooms (small)
Xesteleus Ulmucis
Several Days
Hidden
Photosynthesis
Rapidly Mutating
Carbon
Remuluseus Tolaseunea
Several Days
Omni-Directional
Buried Carbon
Proto-Skeletal
Carbon
Carnivorous flora
Raxerima Sepus
Seasoned
Narrow
Osmosis
Meaty Roots
Carbon
Marrow bulb
Iserosa Boulogii
Fully Grown
Symbiotic
Atmospheric Moisture
Mobile
Marrow Bulb
Umidium Uamdiuromosa
Laeum Oriplii
Still Growing
Swamped
Radio Waves
Marrow Bulb
Resource flowers
Iomesfae Piasus
Fully Developed
Polygonal
Liquid Ammonia
Mobile
Thamium9
Peirium Cuusea
Young
Parasitic
Radio Waves
Unstable Fruit
Zinc
Lolusagii Ceuedae
Fresh
Limited
Fungal Harvest
Airborne Seeds
Platinum
There are 11 known mineral formations on Essturhinrakos 3-OUWE.
Name
Image
Metal content
Formation process
Notes
Elements
Above ground
Essrinjite
66 %
Plant Deposits
Multi-Layered
Iron
Nickel
Malluite
68 %
Photonic
Conductive
Detritum
Edeneite
50 %
Low Energy Reaction
Quartz Core
Iron
Thamium9
Gowenite
69 %
Hydrothermal
Shatter Resistant
Iron
Aluminium
Chrishnite
47 %
Calcium Secretion
Strong Odour
Iron
Zinc
Hieftice
75 %
Sublimation
Buoyant
Iron
Emeril
Buyelorite
80 %
Comet Fragment
Gravitational Bonds
Iron
Caves
Laylidgeite
40 %
Tectonic
Slow Moving
Iron
Heridium
Rontaite
71 %
Cementation
Misleading Structure
Detritum
Oshcorite
72 %
Coalescence
Frozen in Time
Iron
Gold
Tinaeseite
71 %
Diagenesis
High Viscosity
Iron
Gold