Estperlyeit 2-RODZH
The subject of this article is from the Atlas Rises update.

The information from this article is up-to-date as of 23 July, 2018.
The subject of this article is from the Atlas Rises update.
The information from this article is up-to-date as of 23 July, 2018.
Estperlyeit 2-RODZH is a planet in No Man's Sky.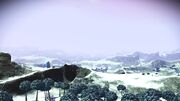 Estperlyeit 2-RODZH is a medium-sized planet in the star system of CF8Afg6G-049 Hebelther on the PC version of No Man's Sky universe.
Its distance to the system's station is about 445 ks.
Day
-58.8 °C
0.9 Rad
1.7 Tox
Night
-65.9 °C
0.8 Rad
19.2 Tox
Cave
-29.6 °C
0.5 Rad
2.4 Tox
Estperlyeit 2-RODZH features Frost Crystal, Emeril and Nickel.
Estperlyeit 2-RODZH houses 6 species of fauna. A full zoology scan awards a 150,000 Unit bonus.
Name
Image
Genus
Rarity
Temperament
Diet
Gender
Weight
Height
Land
Pihysiumea Moreda
Tetraceris
Rare
Ambulatory
Vegetation
Alpha
249.92 kg
6.12 m
Asymmetric
251.99 kg
6.24 m
Erramiaerum Tequit
Ungulatis
Rare
Unconcerned
Grazing creature
Female
177.67 kg
3.48 m
Indeterminate
181.57 kg
3.61 m
Texiumii Shum
Procavya
Uncommon
Unconcerned
Vegetation
Orthogonal
94.50 kg
1.75 m
Vectorized
101.35 kg
1.79 m
Amdiusqusera Kupre
Ungulatis
Common
Anxious
Grazing creature
Non-uniform
71.69 kg
0.44 m
Radical
83.04 kg
0.59 m
Air
Appriium Nuberrur
Agnelis
Common
Sedate
Absorbed nutrients
Exotic
69.51 kg
1.05 m
Caves
Uagiumum Nuroll
Bos
Common
Stalking
Scavenger
Orthogonal
76.01 kg
0.58 m
Prime
67.01 kg
0.53 m
At least 17 flora varieties exist on Estperlyeit 2-RODZH.
Name
Image
Age
Root structure
Nutrient source
Notes
Elements
Trees
Fogasosa Eccasiameneus
Indeterminate
Sentient
Radio Waves
Hibernating
Carbon
Uparus Ergetosa
Regenerating
Concentrated
Photosynthesis
Altitude Tolerant
Carbon
Nitrogen
Dileae Adorritusus
Young
Significant
Autotrophic
Inaudible
Carbon
Flowers
Laqum Ahiceum
Sapling
Concentrated
Parasitic Leeching
Pharmacologically Active
Carbon
Vacoproe Tuxurae
Decades
Dimple
Aerobic Digestion
Omni-Seasonal
Carbon
Cavus Eitatum
Infant
Hidden
Fungal Harvest
Hypnotic Perfume
Carbon
Shrubs
Yadontum Vatismii
Old
Significant
Proton Recycling
Tidal Sap
Carbon
Ilvelea Nihillima
Mature
Not Present
Decomposition
Calcifuge
Carbon
Ferns
Degius Asisortoe
Sproutling
Linear
Natural Carbon
Hibernating
Carbon
Bamonica Haycinica
Fresh
Extendable
Sublimated Nitrogen
Calcicole
Carbon
Gwarima Orresera
Moderate
Limited
Carnivorous
Partially Developed Eyes
Carbon
Carnivorous flora
Coegus Ousiumhenis
Juvenile
Not Present
Fungal Harvest
Parasitic Leaves
Carbon
Marrow bulb
Nelagistia Bucripuusae
Perpetual
Concentrated
Photosynthesis
Movement Prone
Marrow Bulb
Maureum Ilbifrideum
Ancient
Efficient
Geological Energy
Invisible Bristles
Marrow Bulb
Resource flowers
Rizaetia Idtumnonae
Millenia
Knotted
Carnivorous Roots
Fragile Stems
Thamium9
Lolicanis Uzankleontea
Ancient
Parasitic
Cosmic Radiation
Luminous Bulbs
Zinc
Rirhabea Olnea
Timeless
Complex
Radiotrophic
Glowing Tubers
Platinum
There are 15 known mineral formations on Estperlyeit 2-RODZH.
Name
Image
Metal content
Formation process
Notes
Elements
Above ground
Kasporite
74 %
Explosive Magma
Extrusive
Detritum
Damsbertibe
44 %
Explosive Magma
Unnaturally Sculpted
Detritum
Oplazulite
48 %
Photonic
Radioactive
Detritum
Enezesite
72 %
Pyroclastic
Igneous
Iron
Gold
Noganoite
77 %
Gas Humidity
Contains Organic Matter
Iron
Kuthopite
45 %
Evaporation
Eroded
Iron
Platinum
Docouite
57 %
Coalescence
Melts Easily
Iron
Iridium
Pakdaite
67 %
Gravitational
High Phosphate
Iron
Nickel
Kafehite
73 %
Lithification
Fragile Crust
Iron
Gold
Halinite
60 %
Water Transport
Oily Coating
Iron
Iridium
Caves
Lupertibe
71 %
Spontaneous
Vacuum Core
Iron
Gold
Liumolite
49 %
Calcium Secretion
Proto Cellular Structure
Detritum
Mimonite
42 %
Sublimation
Hydrophobic
Iron
Heridium
Nonotaite
55 %
Comet Fragment
Contains Dark Matter
Iron
Plutonium
Sedelanite
63 %
Fossilisation
Musical When Struck
Iron
Copper