Foundation Tree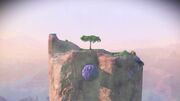 The Foundation Tree is a tree.
The ""Foundation Tree"" is the symbol of the Foundation Capital ETF planet. It's the Capital planet to Eissentam Travellers Foundation.
This tree is located at the top of a huge rock and is marked with a blue beacon.
This great rock is surrounded by a lake, the largest water area discovered so far on the planet.
The Foundation Capital Lake is located on The ""Valley of the Foundation Tree""