Galactic Hub Freighter Catalog
Galactic Hub Freighter Catalog is a visual catalog.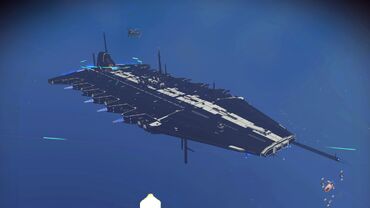 This page contains a list of Freighters available in the Galactic Hub, cataloged by the Galactic Hub Ship Hunters (GHSH).
Put the Economy level of the Star system in the "other" section. ★ = low wealth, ★★ = medium wealth, ★★★ = high wealth.

If found in a Huburb, then add the Region name to the "other" section, after the economy level.

Insert the 12 digit portal code in the "glyph" section.
Credit the discoverer in the "reddit" (or "wiki") section.
The capital freighters are the very large freighters which will be under attack when you enter a system. They cannot be obtained directly via portal, as they require a space battle (see guide above). A given system will always spawn the same capital freighter, but its class (C/B/A/S) and number of slots (24 - 34 slots) will vary on each reload. Freighters can now be upgraded to 48/21 slots, with the Cargo Bulkhead. There are 2 main variants of the capital freighters, Venator and Sentinel, which both have 3 size tiers.
Sentinel- Dreadnought (Large), Battleship (Medium) and Sentinel (Small).
Venator- Resurgent (Large), Imperial (Medium) and Venator (Small).
The system freighters, regardless of size, will vary from 15 - 19 slots.
They can be obtained via portal.
They can be upgraded to full (48+21) slots.




★★★ Economy
1083F9557C31
Discoverer: ApexFatality






★★★ Economy
2045F9557C31
Discoverer: ApexFatality






★★★ Economy
2045F9557C31
Discoverer: ApexFatality






★★★ Economy
109CF9557C31
Discoverer: TPHaze






★★★ Economy
11E6F9557C30
Discoverer: TPHaze






★★★ Economy
1015F9557C30
Discoverer: TPHaze





★★★ Economy
117BF9557C31
Discoverer: ApexFatality






★★★ Economy
1215F9557C31
Discoverer: ApexFatality






★★★ Economy
01A5F9557C30
Discoverer: TPHaze






★★★ Economy
10AEF9557C30
Discoverer: TPHaze






★★★ Economy
1029F9557C30
Discoverer: TPHaze