Ghaiaeldusk 2-VEQU
The subject of this article is from the Atlas Rises update.

The information from this article is up-to-date as of 23 July, 2018.
The subject of this article is from the Atlas Rises update.
The information from this article is up-to-date as of 23 July, 2018.
Ghaiaeldusk 2-VEQU is a planet in No Man's Sky.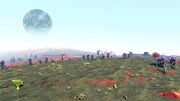 Ghaiaeldusk 2-VEQU is a small planet in the star system of CF8Afg6G-023 Tisamelm on the PC version of No Man's Sky universe.
Its distance to the system's station is about 578 ks.
Day
40.9 °C
6.4 Rad
7.8 Tox
Night
12.6 °C
5.3 Rad
11.8 Tox
Caves
7.1 °C
0.7 Rad
13.9 Tox
Ghaiaeldusk 2-VEQU features Gamma Root, Aluminium and Copper.
Ghaiaeldusk 2-VEQU houses 6 species of fauna. A full zoology scan awards a 150,000 Unit bonus.
Name
Image
Genus
Rarity
Temperament
Diet
Gender
Weight
Height
Land
Nuwrdaea Bote
Tetraceris
Rare
Calm
Herbivore
Asymptotic
268.58 kg
6.08 m
Radical
261.93 kg
5.96 m
Riglaea Boze
Felidae
Rare
Amenable
Vegetation
Rational
185.42 kg
3.73 m
None
185.24 kg
3.62 m
Cufateoea Atlagu
Felidae
Uncommon
Docile
Grazing creature
Exotic
84.29 kg
1.45 m
Asymmetric
79.93 kg
1.40 m
Sauriae Vatuss
Ungulatis
Common
Prey
Oxide elements
Orthogonal
68.29 kg
0.59 m
Prime
59.20 kg
0.51 m
Air
Mephiumera Ocnu
Agnelis
Common
Sedate
Vegetation
Radical
49.74 kg
1.07 m
Caves
Illumatioeum Atlagu
Procavya
Uncommon
Submissive
Grazing creature
Unknown
98.80 kg
1.97 m
Non-uniform
87.11 kg
1.83 m
At least 15 flora varieties exist on Ghaiaeldusk 2-VEQU.
Name
Image
Age
Root structure
Nutrient source
Notes
Elements
Trees
Uralcyii Anbotornacus
Centuries
Independent
Liquid Ammonia
Launchable Thorns
Carbon
Segus Homumium
Mature
Unfathomable
Photosynthesis
Faintly Singing
Carbon
Ercorlica Amquezium
Mature
Grasping
Heat Recycling
Four Dimensional
Carbon
Tentacle plants
Opesarima Ebottii
Regenerating
Irregular
Fungal Symbiosis
Mono-Seasonal
Carbon
Ratius Nuwrdarum
Sapling
Branching
Carnivorous
Toxic Bark
Carbon
Aimea Ulmergoe
Young
Substantial
Photosynthesis
Hidden Tentacles
Carbon
Duliea Nonnica
Sproutling
Bi-directional
Soil Bacteria
Sticky Coating
Carbon
Mordite
Mibria Puyrgus
Still Growing
Bi-directional
External Maintenance
Luminous Bulbs
Carbon
Mordite
Carnivorous flora
Yulae Ipsus
Youthful
Linear
Heavy Rain
Blight Resistant
Carbon
Caves
Driorum Nimum
Fully Developed
Stunted
Natural Carbon
Paralysing Spores
Carbon
Radon
Liaeea Elodureus
Centuries
Fractal
Carnivorous
Waxy Fruit
Marrow Bulb
Tavus Nedoe
Fully Grown
Onmi-Directional
Buried Treasure
Pungent
Marrow Bulb
Resource flowers
Elfragia Flurima
Sapling
Irregular
Geological Energy
Hive Mind
Thamium9
Yugoseum Liblanii
Juvenile
Unsupported
Aerobic Digestion
Calcicole
Zinc
Iduesis Ulsae
Fully Grown
Extendable
Electron Donors
Bi-Seasonal
Platinum
There are 19 known mineral formations on Ghaiaeldusk 2-VEQU.
Name
Image
Metal content
Formation process
Notes
Elements
Above ground
Rasvumite
62 %
Calcium Secretion
Strong Odour
Detritum
Aguelite
66 %
Meteorite Impact
Contains Organic Matter
Detritum
Dotoligite
42 %
Ground up Shells
Partially Invisible
Detritum
Kibritime
60 %
Old Bones
Yeast Colony
Detritum
Yunskoite
66 %
Gravitational
Water Resistant
Iron
Nickel
Buscolite
57 %
Ground up Shells
Exfoliating
Iron
Iridium
Uytenkite
52 %
Animal Deposits
Molten Core
Iron
Thamium9
Ocropite
59 %
Calcified Fauna
Exfoliating
Iron
Iridium
Oflucite
50 %
Metamorphic
Eroded
Iron
Thamium9
Eiderite
46 %
Atmospheric Metal
Yeast Colony
Iron
Platinum
Spujolite
51 %
Soil Compaction
Eroded
Iron
Thamium9
Liplagite
44 %
Meteorite Impact
Molten Core
Iron
Platinum
Hevilkite
55 %
Volcanic
Potentially Synthetic
Iron
Plutonium
Elhexaceite
70 %
Volcanic
Parasite Host
Iron
Aluminium
Naxinite
50 %
Salt Bonding
Abrasive
Iron
Thamium9
Caves
Itzerite
58 %
Salt Bonding
Ancient
Iron
Iridium
Necrisite
76 %
Evaporation
Durable
Detritum
Bixbyite
78 %
Magnetic Attraction
Extreme Salt Content
Iron
Gohdanabite
76 %
Fossilisation
Hydrophobic
Iron