HUB1-!X-10B Hexomia (Hexagon Biome)
[HUB1-!X-10B] Hexomia (Hexagon Biome)
Galaxy
Euclid
Region
Shungka Void
Spectral class
Blue
Distance to centre
664,878 light‑years
Planet(s)
1
Moon(s)
1
Faction
Gek
Economy
Manufacturing
Wealth
Comfortable
Conflict level
High
Discovered by
Steady_Handz
Game Mode
Normal
Platform
PC
Updated
Atlas Rises
[HUB1-!X-10B] Hexomia (Hexagon Biome) is a star system.
[HUB1-!X-10B] Hexomia (Hexagon Biome), or simply Hexomia, is a star system in the No Man's Sky universe.
It is located in the Shungka Void of the Euclid Galaxy.
Materials found on Hexomia's planet and moon include cymatygen, copper, and iridium, among others. Larger asteroids sport iron, copper, and sometimes gold.
There are no trading posts in this system; the trade route lines that usually mark these locations therefore pass straight through the sole planet. The only surface trade terminal in the system is at Nexus' Navel Base.
As its name suggests, Hexomia is unique because its only planet is covered in hexagonal plates.
Discovered at an unknown time by Steady_Handz on PC.
This system is not known to feature space crystals.
| | | | |
| --- | --- | --- | --- |
| All | | Original: | Erplane-Nag |
| | | | |
| --- | --- | --- | --- |
| PC | | Abbreviated: | HUB1-!X-10B Hexomia |
| | | | |
| --- | --- | --- | --- |
| PC | | Alternate: | HUB1-X-10B Hexomia |
Due to the fact that another player discovered the system before this article was written, the system tag is [HUB1-!X-10B] in-game, indicating that at least one planet hosts hostile sentinels. This is not the case.
This star system contains 1 planet and 1 moon:
Planet Name
Type
Extreme
Weather
Aggressive
Sentinels
Hexus Nexus (Fractal Planet)
Exotic Planet

(displays as barren)

NO
NO
Cymatygen

Copper

No Planetary Fauna
An exotic fractal planet covered in hexagonal plates. Caves can occasionally be found on its surface, along with a fair amount of resources. Nexus' Navel Base is located on this planet.
Hexervatory
Barren Moon
NO
NO
Cymatygen

Iridium

Heridium

No Planetary Fauna
A barren moon with no life on its surface. Sentinels have a minimal presence here. Analysis results indicate few resources.
Mibosonur S70
(appears to have what resembles a droid on its wing, similar to a Jedi starfighter
NOTE: Coordinates correspond to the location of entire regions, not specific systems. In other words, for all the coordinates in the Galactic Hub, there are only 11 effective outputs. Therefore, coordinates are useful for Portal travel, but not particularly useful on Pilgrim Star Path when inside the Hub.
(Click an image for full size versions)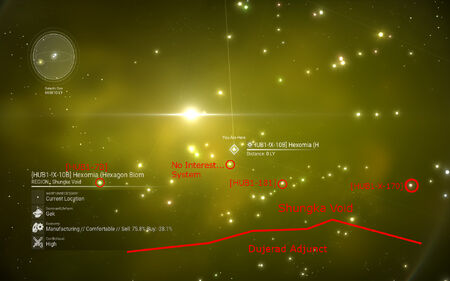 Locating HUB1-!X-10B Hexomia (Hexagon Biome)
[
edit
|
edit source
]
Hexomia is within what appears to be the second "layer" of stars from the base of the Shungka Void region. There are two green systems very close to Hexomia as well as another blue system. One of the green systems, No Interest..., is slightly below Hexomia. There are not many stars laterally clustered in this part of the region, so use of the economy scanner to filter the star colors may help.
This is the home system for Albee12, who resides at Nexus' Navel Base.
Galactic Hub Project subreddit