HUB6-!$-A8 Tyrant Delta (G.Ships,VC)
Tyrant Delta
Galaxy
Euclid
Region
Eyrint Fringe
Spectral class
Yellow
Distance to centre
665,204 light‑years
Planet(s)
6
Moon(s)
0
Faction
Korvax
Economy
Ore Extraction
Wealth
Booming // S: -14.3 B: 15.7
Conflict level
Alarming
Discovered by
nbairen
Game Mode
Normal
Platform
PC
Updated
Atlas Rises
Tyrant Delta is a star system.
Tyrant Delta is a star system in the universe of No Man's Sky universe.
It is located in the Eyrint Fringe of the Euclid galaxy.
August 21, 2017 by nbairen on PC
Every system's space crystals always provide the same type of material within that system. This system provides Aluminium.
This star system contains 6 planets and 0 moons
Planet Name
Type
Extreme
Weather
Aggressive
Sentinels

Shiemeizhasa (VC,Geo,Lush)
Lush
No
No
VC Sb Ni Al Hr
100% Zoology Bonus: 200,000
A green, grassy planet with numerous mountain ranges. The surface is covered in massive craters. Fauna are rare upon the planet.

Jinerioikeu
Airless
No
No
Al Cu Hr
100% Zoology Bonus: N/A
A dark planet devoid of life. Black sand coats the surface, on which few materials can be found.

Atenraigo
Verdant
No
No
Sb Al Ir Hr
100% Zoology Bonus: 275,000
A pleasant, green planet. Fauna are uncommon while flora are absent; not a blade of grass can be found on the surface. Shallow water can be found occasionally.

Amenzeleberde-Inha
Acidic
No
No
Ml Em Ni Hr
100% Zoology Bonus: 200,000
A toxic world, this planet has sporadic fauna but frequent flora. Large towers of rock ascend from the surface while dry riverbeds snake across the planet.

Takinelo BD109
Radioactive
No
No
Gr Au Cu Hr
100% Zoology Bonus: 175,000
This radioactive planet is home to few types of flora and fauna, not to mention few resources. However, snake-like rock formations span the planet, suspended several meters off of the ground.

Nisemidov Isfad (SV)
Irradiated
No
No
SV Gr Au Cu Hr
100% Zoology Bonus: 225,000
An irradiated planet, home to several fauna and at least one species over seven meters tall. Sac Venom can be found on the surface as well.
Explorers
Shuttles
Fighters
Haulers
Exotic
NOTE: Coordinates correspond to the location of entire regions, not specific systems. In other words, for all the coordinates in the Galactic Hub, there are only 11 effective outputs. Therefore, coordinates are useful for Portal travel, but not particularly useful on Pilgrim Star Path when inside the Hub.
Portal Coordinates to Shiemeizhasa

Image of Tyrant Delta, marked by the waypoint in the bottom-left, in Eyrint Fringe. The Atlas Station at [HUB1-7A] Argos Rho in Shungka Void is lined up with the Galactic Core as a reference point.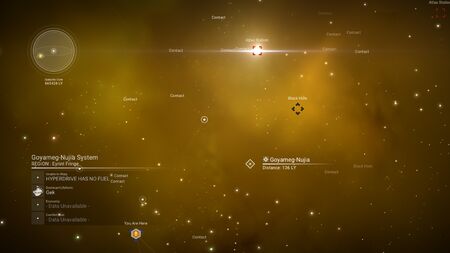 Galactic Hub Project subreddit