HUB7-12C Avolzh
[HUB7-12C] Avolzh
Galaxy
Euclid
Region
Dadurgh
Spectral class
E3f
Planet(s)
2
Moon(s)
0
Faction
Gek
Economy
Mathematical
Wealth
Adequate
Conflict level
Mild
Discovered by
Ezegnegch
Game Mode
Normal
Platform
PC
Updated
Atlas Rises
[HUB7-12C] Avolzh is a star system in No Man's Sky.
[HUB7-12C] Avolzh is a green star system in the No Man's Sky universe.
The system is quite peaceful, with pirate attacks occurring quite rarely. However, its planets are anything but peaceful, as both of them are extreme hellholes.
Octorber 15, 2017 by Interloper Ezegnegch on PC Normal.
Unknown.
NOTE: Coordinates correspond to the location of entire regions, not specific systems. In other words, for all the coordinates in the Galactic Hub, there are only 11 effective outputs. Therefore, coordinates are useful for Portal travel, but not particularly useful on Pilgrim Star Path when inside the Hub.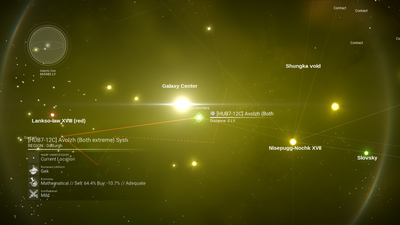 The picture above shows the star directly facing the Shungka Void, with the galactic center left of it. Search for this view at the lowest area of The Dirge.
Avolzh is a green star and is in the lowest area of The Dirge, located close to Nisepugg-Nochk XVII and the Tiessze Terminus below. It should be relatively easy to locate. It's a green, 2-planet Gek system with a adequate mathematical economy and mild levels of conflict.
A player base is built here. It is a community farm and racetrack. The farm produces materials enough for 6.5 Circuit Boards and 4 Living Glass per hour. A rather difficult racetrack, The Six Deadly Rocks nomad racetrack is found here.
Galactic Hub Project subreddit