Hub Francophone
Le Hub Francophone is a civilized space community.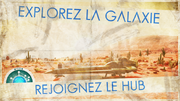 Le Hub Francophone (or HUB-Fr) is a french Civilized space community.
It is located in the Mocmone Quadrant region of the Euclid galaxy. Secondary regions include the following:
The coordinates of the capital planet are: 0D9A:0082:04A6:00AB
You can travel by:
Portals: Enter this sequence of glyphs:

50AB03CA759B

Warping: with the help of the Pilgrim Star Process
HUBers: Ask on the Discord to join someone already present at the Hub
Every systems from the Hub Francophone must have [HUB-FR] at the beginning of their name. Optionally, planets and bases can also include [HUB-FR] in their names.
No results