Ildpolundiss 3-KONEA
The subject of this article is from the Atlas Rises update.

The information from this article is up-to-date as of 23 July, 2018.
The subject of this article is from the Atlas Rises update.
The information from this article is up-to-date as of 23 July, 2018.
Ildpolundiss 3-KONEA is a planet in No Man's Sky.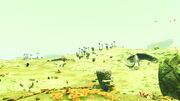 Ildpolundiss 3-KONEA is a large planet in the star system of CF8Afg6G-511 Raimlor on the PC version of No Man's Sky universe.
Its distance to the system's station is about 1,327 ks.
Day
39.3 °C
7.0 Rad
11.5 Tox
Night
33.4 °C
6.1 Rad
11.2 Tox
Caves
29.2 °C
0.8 Rad
9.7 Tox
Ildpolundiss 3-KONEA features Gamma Root, Gold and Nickel.
Ildpolundiss 3-KONEA houses 6 species of fauna. A full zoology scan awards a 150,000 Unit bonus.
Name
Image
Genus
Rarity
Temperament
Diet
Gender
Weight
Height
Land
Wodeumera Huzikol
Ungulatis
Rare
Calm
Absorbed nutrients
Rational
260.42 kg
6.11 m
Radical
249.29 kg
6.08 m
Rejudiae Olgo
Mogara
Rare
Docile
Herbivore
Prime
168.50 kg
3.70 m
Rational
157.12 kg
3.56 m
Riktoleusosa Sigov
Tetraceris
Uncommon
Passive
Grazing creature
Alpha
103.86 kg
1.39 m
Asymptotic
101.29 kg
1.36 m
Xandoea Yechro
Felidae
Common
Skittish
Oxide elements
Radical
53.24 kg
0.88 m
Symmetric
50.69 kg
0.85 m
Air
Dulcruceusosa Ieta
Agnelis
Uncommon
Migratory
Vegetation
Non-uniform
87.34 kg
1.32 m
Emonoea Ieta
Agnelis
Common
Migratory
Herbivore
Unknown
73.15 kg
1.10 m
At least 14 flora varieties exist on Ildpolundiss 3-KONEA.
Name
Image
Age
Root structure
Nutrient source
Notes
Elements
Trees
Rafidus Edicera
Decades
Concentrated
Atmospheric Moisture
Edible Seeds
Carbon
Nitrogen
Oceae Sinktorima
Ancient
Symbiontic
Atmospheric Moisture
Glasslike Seeds
Carbon
Coprite
Onundorae Ermarera
Mature
Mobile
Buried Carbon
Metallic Nodules
Carbon
Tentacle plants
Machumeum Vemcia
Fresh
Many-Limbed
Buried Nitrogen
Movement Prone
Carbon
Mordite
Iborus Tipesanum
Millenia
Simple
Fungal Harvest
Haunted Nests
Carbon
Azilia Yaldarinis
Juvenile
Conventional
Carnivorous
Extraterrestrial
Carbon
Yilisteum Skerea
Unknown
Gravitational
Natural Carbon
Toxic Thorns
Carbon
Euromum Likinia
Advanced
Unsupported
Moonlight
Potentially Medicinal
Carbon
Carnivorous flora
Ructibumii Ondigis
Several Days
Extensive
Cosmic Radiation
Irresistible Seeds
Carbon
Nitrogen
Caves
Acledoe Ouxillarea
Juvenile
Knotted
Sublimated Nitrogen
Rapid Reproduction
Marrow Bulb
Oubium Fumae
Several Days
Invasive
Gamma Rays
Itchy Pollen
Marrow Bulb
Resource flowers
Tensum Dificonsium
Sproutling
Grasping
Photosynthesis
Meaty Roots
Thamium9
Olfia Euiarum
Seasoned
Independent
Liquid Ammonia
Psychotropic Leaves
Zinc
Arnae Audatium
Infant
Regular
Photosynthesis
Edible Seeds
Platinum
There are 20 known mineral formations on Ildpolundiss 3-KONEA.
Name
Image
Metal content
Formation process
Notes
Elements
Above ground
Suminyite
79 %
Fossilisation
Low Specific Gravity
Detritum
Urophite
80 %
Fossilisation
Geode Rich
Detritum
Bocelite
66 %
Ancient Tidal Erosion
Frozen in Time
Detritum
Vihoriite
74 %
Soil Compaction
Unnaturally Sculpted
Detritum
Sodelendawite
58 %
Petrification
Ancient
Iron
Iridium
Xilimaite
68 %
Lithification
Molten Core
Iron
Nickel
Udobalzite
75 %
Photonic
Recently Formed
Iron
Emeril
Hosteaite
53 %
Soil Amalgamation
Contains Organic Matter
Iron
Plutonium
Loysheite
49 %
Magnetic Attraction
Shatter Resistant
Iron
Zinc
Pumpfite
47 %
Pyroclastic
Superconductive
Iron
Zinc
Tikielite
65 %
Evaporation
Misleading Structure
Iron
Nickel
Mizeyaite
69 %
Sublimation
Bonelike
Iron
Aluminium
Hoeriite
56 %
Spontaneous
Conductive
Iron
Plutonium
Lericeite
79 %
Tectonic
Bonelike
Iron
Nurrmiite
77 %
Living Stone
Superconductive
Iron
Caves
Hafnoite
56 %
Spontaneous
Superconductive
Iron
Iridium
Deloreite
55 %
Cementation
Feldspar
Detritum
Veinhite
74 %
Sublimation
Potentially Explosive
Iron
Emeril
Yarrerolite
47 %
Salt Bonding
Yeast Colony
Iron
Zinc
Lipurpite
78 %
Ammonia Groundwater
Hydrophobic
Iron