MegaCorp

MegaCorp is a Civilized Space Corporation.
MegaCorp is a Privately Owned and Self-Funded Company operating out of the Euclid galaxy.
Our motto is - "Building Tomorrow's Future, Today."
MegaCorp's main objective is to provide Prosperity and Profit on a Galactic Scale. Our services include; Base building of various products, cataloging of starships and multi-tools, community charities and assistance for young aspiring companies.
After ruling the Aviszar Cartel for nearly three decades, Salazar Vito the Godfather of Organized Crime handed the reins to his Consigliere DarkStar. Vito soon after traveled to the Eissentam galaxy with his enormous secured wealth of 30 Billion

and invested his stocks in local Gek brokers. Several private business meetings took place on undisclosed worlds and thus MegaCorp was born.
| | |
| --- | --- |
| DATE | EVENT |
| 2/10/19 | Salazar Vito founds MegaCorp in the Eissentam galaxy. (Gamma, Econnune Sector, Nitanagi (MegaCorp)) |
| 2/15/19 | Construction for Megaplex HQ begins. |
| 2/21/19 | Ghost Enterprises signs a Partnership Deal with MegaCorp. |
| 2/22/19 | Aviszar Cartel signs a Partnership Deal with MegaCorp. |
| 2/25/19 | 42 M.C. Plaza is completed within the Free Delta Initiative, serving as the business HQ for the civilizations there. |
| 3/18/19 | Atlas Legends Cinema becomes a Subsidiary. |
| 3/20/19 | Eta Hellion Industries becomes a Branch Office. |
| 4/9/19 | Salazar Vito moves MegaCorp to the Euclid galaxy. |
The main current Headquarters for the Company is Megaplex. Current construction is on-going.
Euclid HQ
Chairman - The CEO of MegaCorp, overseeing all company operations and The Directorate.
Chief Director - The COO of MegaCorp who is second in command and works in tandem with the Chairman.
Security Chief - Head of internal security within MegaCorp.
Board Member - High ranking executive officers within MegaCorp.
HR Manager - Oversees all public relations between MegaCorp Clients and Employees.
Branch Office Supervisor - Main role includes managing the various Branch Offices within the Company.
MegaCorp Employee - Official members of the Company.
Code of Conduct
When using our main forum of discussion please adhere to the following:
Be respectful, polite and patient.
Avoid any defamatory, offensive or derogatory content.
Correct or remove any misleading or false content as quickly as possible.
Avoid deleting or ignoring comments for no reason.
Conflict of Interest and Workplace Violence
Conflicts of interest are a serious issue for all of us. We expect you to be vigilant to spot circumstances that create conflicts of interest, either to yourself or for your direct reports. Follow our policies and always act in our company's best interests. Whenever possible, do not let personal interests get in the way of your job. If you are experiencing an ethical dilemma, talk to our HR and we will try to help you resolve it.
To build a happy and productive workplace, we need everyone to treat others well and help them feel safe. Each of us should do our part to prevent harassment and workplace violence. If you believe you're a target of harassment, it is imperative that you let Management know and a complete investigation will follow on that individual with possible "TERMINATION" from the Company.
Performance Management
We have built our performance management practices to:
Ensure you understand your job responsibilities and have specific goals to meet.
Provide you with actionable and timely feedback on your work.
Invest in development opportunities that help you grow professionally.
Recognize and reward your work in financial or non-financial ways (e.g. employee awards.)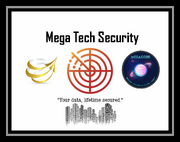 Mega Tech Security
MegaCorp handles all personal/sensitive information and data of its employees and clients with the highest level of security.
A private corporate security firm that deals with asset protection/management and fraud deterrence. All information is protected by Class 16 AEGIS Firewall, rumored to be impenetrable across multiple galactic agency reports.
We work on behalf of our clients to manage reputation, enhance customer service, secure a safe workplace and allow employees and leaders to focus on improving daily operations.
MegaCorp is an intergalactic corporate giant with several main regions under its control.
Our MegaCorp - Corporate Database is open to all civilizations, companies and lone travelers.
MegaCorp engages in Base Building, Galactic Expeditions, Starship/Multi-tool Cataloguing and Financial Assistance in

.
Need assistance in building your dream base but don't have the resources or funds? MegaCorp will plan, design, and oversee the construction of your residence under your supervision. Our Company will commit to deliver what was promised between the signed agreement or reimbursement will follow.
The universe is a mysterious and dangerous place full of terror and beauty. Here at MegaCorp we specialize in exploring the unknown, going where few travelers dare to tread. We organize, fund, and oversee all production of our client's expedition.
Finding the perfect starship and multi-tool can be a tedious and overbearing effort. Browse through our Corporate Database to find top class starships and multi-tools located throughout all galaxies with coordinates, bonuses and information.
Acquiring funds at times can be difficult depending on what game mode our Client operates on. If you need assistance in funds, MegaCorp will gladly with no charge give you the adequate funds you need. We just need the following:
PSN, XBox or PC Gametag
Mode(Normal/Survival or Permadeath)
Time Zone
Method of contact(Reddit/Discord/Amino)
MegaCorp is an equal opportunity employer for all races including Gek, Korvax, Vy'keen Traveler and Anomaly. We aim to bring the best and brightest of business minds to our Company.
To schedule an interview with our HR Manager for possible employment join our Discord:
MegaCorp owns Four Branch Offices that act as independent companies with limited corporate autonomy.
Subsidiaries are Player-Owned Companies who have signed contracts with limited terms.
| Office | Galaxy | Supervisor | Platform | Mode | Product(s) |
| --- | --- | --- | --- | --- | --- |
| TBA | TBA | TBA | TBA | TBA | TBA |