Mojave
Mojave is a planet in No Man's Sky.
Mojave is a planet in the Jabberwocky Calidus star system on the PS4 version of No Man's Sky universe.
It is one of two planets in the system and is a rugged, scorched planet with daytime temperature reaching over 130 degree F. It may have had a moon in the distant past, but now is surrounded by ringlets of rocky debris.
| | | | |
| --- | --- | --- | --- |
| All | | Original: | Cecrisy Gamma |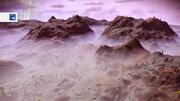 None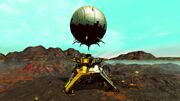 Bazon's Graveyard
Busuki Crater XI has a manufacturing factory
Camp Oharao, location of a holocomm tower at +0.64, +128.69
Futt's Drift a small settlement at-2.87, +42.92 and location of the Comforting Chrono Needler
Gifuncat Outpost, site of a holocomm tower
Lost Plains of Sesakato
Muriosh Flats X
Naritaaki Enclave, home of a small settlement at +1.34, +128.70
Nazert Dale, location of a manufacturing factory at -6.65, +46.43
Omiha Lowlands, site of a small settlement at +21.25, -44.87
Point Peyora
Point Zukayas
Rulinog Wastes
Rumasa Encampment, another holocomm site at -2.91, +48.06
Rumato Basin
Ruoka Plateau, location of a small settlement at -13.25, +45.56
The Apred
The Akyotom Expanse has a drop pod at +23.11, -46.57
The Nemuror Levels, a supply depot with silver, radon, nitrogen salt, platinum, and lemmium at +1.09, +128.68
The Tamburle Trade Post can be found at +71.03, +130.37.
Windswept Plains of Sonada has a drop at +23.18, -46.28
The following resources can be found on this planet.