Multi-tool Catalogue - Rifle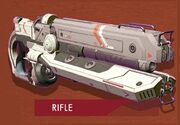 There are multiple game-release versions of the Multitool Catalogue - Rifle page.
---
This page is a list of various Rifle multi-tools discovered during the Beyond through current eras.
Rifles have a low damage bonus and a low scanner bonus (the two bonuses are usually equal in magnitude). They are a common specialisation to find, but are usually more expensive than Pistols; in exchange, they are able to generate with up to 24 slots, the maximum number of slots which any Multi-tool can possess.
This is the best class of multi-tool (and most expensive). They typically have bonuses of 40% or above.
The four specialisations of multi-tool are:
Each specialisation can be subdivided into four classes, with S being the most powerful (and the most expensive), followed by A, B, and C.
(For a list of all multitool types, refer to the Multi-tool Catalogue)