NEXT Trailer
The subject of this article is from the NEXT update.

The information from this article is up-to-date as of 28 October, 2018.
The subject of this article is from the NEXT update.
The information from this article is up-to-date as of 28 October, 2018.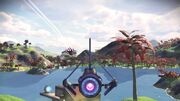 On 17 July, 2018, Hello Games posted the official NEXT trailer. Hello Games wrote this on their website as an introduction:
On July 24th No Man's Sky NEXT will launch as a free update for PlayStation, PC, as well as launching on Xbox for the first time. We are focused on development, but we know people are hungry for details.
Nearly two years ago our small team of friends, with a shared love of sci-fi, opened up the universe of No Man's Sky for the first time. It was an innovative, weird and at times lonely game. I loved that, it reminded me of the science fiction books I grew up with. It was broad in a way that almost no other game is, but with four updates it has become broader and so much deeper too.
That will be even more true with the launch of NEXT, bringing a full Multiplayer experience. We can't wait for you to play, but hopefully you can see from the trailer this is a very new experience.
Here are a few things you might notice from the trailer…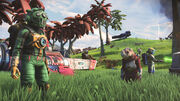 Team up a small team of friends and explore the universe together, or be joined by random travelers.
You can help friends to stay alive, or prey on others to survive.
Tiny shelters or complex colonies that you build as a team are shared for all players.
Fight as a pirate or a wingman in epic space battles with friends and enemies.
Race exocraft across weird alien terrains, creating race tracks and trails to share online.
Character customisation allows you to personalise your appearance.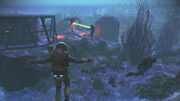 The game is fully playable in third or first person, both on-foot and in ship.
Planetary rings and improved space visuals make space more beautiful than ever.
Dramatically improved planetary terrain generation, ground textures, water and clouds bring the environment to life.
Significantly more detail added to ships, NPCs, and buildings.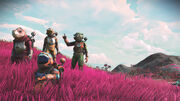 Dramatically increased base building complexity and size limits.
Hundreds of new base parts.
Own multiple bases.
Assemble and upgrade a fleet of frigates and command them from the bridge of your freighter.
Send your fleet out to into the universe, or deploy them to help you as you explore a specific system.
Improved freighter base building allows a truly custom capital ship.
Invite your friends aboard and take on challenging multiplayer missions from the Galactic Commision Station on your bridge.
This is an incredibly important update for us, but it's also just another step in a longer journey, and we'll continue to support No Man's Sky in this way for the foreseeable future.
On behalf of myself, and the team at Hello Games I just want to say – Thank you. We are so excited to have made NEXT, and to continue to improve and develop No Man's Sky, because of you, the community who play, explore and share this universe with us. It means so much to us.
We hope you enjoy this and what follows – and we look forward to meeting you out there! Our journey continues.
Sean