Nexus' Navel Base
Nexus' Navel Base is a player base.
Nexus' Navel Base is a player base located on Hexus Nexus (Fractal Planet) in the HUB1-!X-10B Hexomia (Hexagon Biome) system.
It is on the far side of the planet from the moon of Hexervatory. Visitors should have no trouble locating it, as there are three geobays, a Save Beacon, and (at the time of writing) one communications station, placed by the proprietor.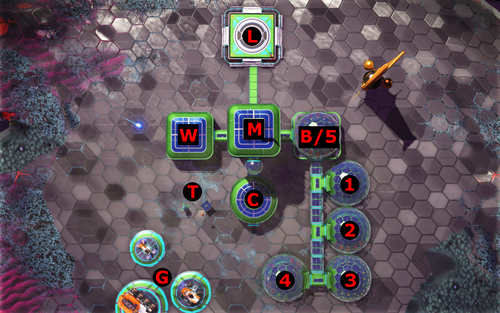 Nexus' Navel Base is currently not designed to foster mass-production of any kind of agricultural product, however current crops allow occasional production of circuit boards and living glass. After harvesting the required crops (details following the table), visitors may still harvest an additional selection of crops not required to produce circuit boards or living glass if they wish.
Given the current crop set, visitors can harvest enough materials to create 2 circuit boards and 1 living glass per harvest. Another set of circuit boards can be produced after two hours, and another living glass can be produced after thirty minutes. To build 2 circuit boards, harvest:
To build a living glass (even after harvesting the above), harvest:
Nexus' Navel Base is modeled after its predecessor, Isle's Shadow Base, which was located on a lush world outside of the Galactic Hub. Having joined the community of the Hub, ISB's owner Albee12 dismantled and moved the base to its current location.
Key differences between the current design versus the original are these:
the lack of a 3x3 cuboid room, which initially housed Hydroponic Trays prior to the construction of bio-domes; a standard square room instead provides dedicated floor space for botanical study.
NNB also has the locations of the workshop and farming wing switched with each other.
an additional bio-dome was built above the new botany room to grow the star brambles planted outdoors at ISB.
Aside from these differences, NNB's design is the same as that of ISB: a central tower four stories high, each floor for an individual staff member with the top floor being the owner's quarters; bio-domes for growing a variety of crops; a landing pad; accessible geobays for all three exocraft; and a signal booster. Because Hexus Nexus has low trader traffic due to a lack of trading posts, a Galactic trade terminal is available in the main tower.