The subject of this article is from a pre-release seed. The information on this page cannot be found in the released game.
The information from this article is kept for historical purposes and should not be further categorized.
Odvinsko-Iayi v7.28
Category
Multi-tool - Weapon
Type
24 slots provided
Updated
Pre-release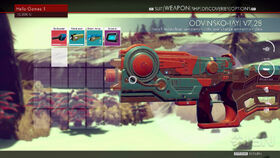 Odvinsko-Iayi v7.28 is one of the Multi-Tools in No Man's Sky.
First shown in the pre-release Crafting video, it is It is red, forest green, and brown in color with yellow and blue stripes on the barrel.
Acquirement
Edit