Parzival Raceway
The subject of this article is from the Visions update.

The information from this article is up-to-date as of 13 August, 2019.
The subject of this article is from the Visions update.
The information from this article is up-to-date as of 13 August, 2019.
Parzival Raceway
Builder
Andy Krycek (Recreated by Parralax on PC)
Galaxy
Euclid
Region
Uefert Nebula
Star system
HUB6-15B Ataar
Planet
New Lesage
Planetary coords
+8.52 +29.07
Galactic coords
042f:0078:0d56:015B
Portal glyphs

215BF9557C30

Game mode
Normal
Platform
PS4/PC
Release
Visions
Features
Farm
Geobay
No
Yes
Landing pad
Arena
No
No
Trade terminal
Racetrack
No
Yes

Parzival Raceway is a Player base/Racetrack.
Parzival Raceway is a Racetrack, located on the planet New Lesage in the HUB6-15B Ataar system.
Created for The Galactic Hub Star League Emeril Division. Parzival Raceway will host select race events and will be open to the community.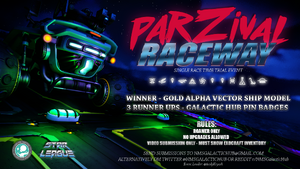 A one-off Time Trial event hosted by The Galactic Hub open to all Interlopers.
Players are in with a chance to win a Golden Alpha Vector Ship Model, Runners up will get Galactic Hub Pin Badges.
Event duration extended to allow for more submission
-RULES-
Roamer Only
No Upgrades Modules Allowed PRIMARY EXOCRAFT ACCELERATION MODULE ONLY
Video Submission Only
Video must show Exocraft Inventory immediately prior or after the race
Terrain manipulation allowed only around the finish line to clear obtrusive obstacles.
Listen to GUNSHIP
Difficulty: Hard. Track requires a few practice runs due to natural obstacles.
To prevent loss of Exocraft upgrade modules permanently, manually save your game before racing and delete all modules (except primary Acceleration Module).
After your racing is done reload your save to restore. (Don't forget to hit that save video!)
Track Preview:
| TIME | RACER | DATE |
| --- | --- | --- |
| 127.74 | JordanMurphy | 24/Jun/19 |
| 128.40 | snowobsidian | 22/Jun/19 |
| 133.12 | Comander_Gan0n | 23/Jun/19 |
| 159.31 | Swampcastle | 18/Jun/19 |
| 159.35 | nmskibbles | 24/Jun/19 |
How to upload a video from PS4
[
edit
|
edit source
]
Send your video submissions/links to any of the following (Stream links acceptable):
Email: nmsgalactichub@gmail.com
Twitter: @NMSGalacticHub on Twitter #ParzivalRaceway
Reddit: r/NMSGalacticHub or AndyKrycek
Any queries/questions message AndyKrycek - @KrycekAndy
Short Track with natural obstacles to circumnavigate at high speeds. Race concludes with jump over the finish line.
Main facility hosts 2 Appearance Modifiers and a Roamer geobay for racers to customize race attire (Main Facility not on PC)
Hazardous Fauna! Potential to get under the tyres on Nomads. Be Careful!
Parzival Raceway as featured in the Star League Promo: