Piapos
The subject of this article is from the NEXT update.

The information from this article is up-to-date as of 28 October, 2018.
The subject of this article is from the NEXT update.
The information from this article is up-to-date as of 28 October, 2018.
Piapos
Galaxy
Euclid
Region
Ongyimid Shallows
Color
Yellow
Spectral class
G2pf
Distance to centre
1158004 light‑years
Galactic coordinates
0FFE:007F:0000:017D
Planet(s)
1
Moon(s)
0
Faction
Korvax
Economy
Trade
(Shipping)
E-Sell
53.4%
E-Buy
-18.1%
Wealth
Booming (3)
Conflict level
Alarming (3)
Claimed by
Forgotten Colonies
Discovered by
Thamalandis
Game Mode
Normal
Platform
PC
Updated
NEXT
Piapos is an inhabited star system.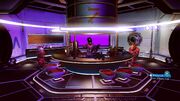 Piapos is a trade star system on the Beta meridian at the end of the Beta Spiral in the Euclid galaxy. Its distance to Beta Polaris is 143ly! The system is a regional pirate haven.
The station's neutrality and operation is organised by Operator Entity Biny. Their most loyal aide is the Gek Underling Mikr, while the local 'security force' under Vy'keen Guard Myeochow makes sure the current balance of power in the system is upheld. Even feuds and vendettas have their limit.

The local convergence has somehow come to the conclusion that might makes right. In a twisted result of equality all races have come together to partake in one of the strangest systems of the region. A complex honor code of crime now governs the Korvax system where honor and admiration falls on those that are smarter or just stronger than their enemies and friends. Just pay the bribe and move on, no police to see here. The system security ARE pirates! This lenient way to law enforcement and trade however garnishes many prospects in the system, especially with the nearby capital system of Museydar cracking down on organized crime. Sometimes money does stem from outlaws, and some of it is even legal! Many nearby systems offer good prospects to loot with little risk and all can be sold here.
Aboard the space station the local syndicate offers hardened visitors access to their data base filled with tempting prospects for 'acquisition'.
The Traveller's Guild has an embassy in the system under Traveller Iskernia as part of The Synergy. Their ability to merge with the convergence is invaluable in communication.
Piapos is a corner star and upper bridge of its region and cluster.
Neighbors:
Natural Bridge:
Omya is a calm pangean scorched ringworld.

Daily temperatures above 65+°C.
Safe:
Fighter: 0/7
Explorer: 0/3
Hauler: 0/3
Shuttles: 0/7
Exotic: 0/1
Freighter: 0/3
Capital Ship: 1/1 (Sentinel-Class)

Space Station
Fighter
Explorer
Hauler
Shuttles
Space
Freighter
??? Blade-Class
??? Cargo-Class (Underbite)
Capital
Reroll Option:
Left Terminal
Right Terminal
Coordinates and Portal Addresses
[
edit
|
edit source
]