Polengdynendum 3-NEBRO
The subject of this article is from the Atlas Rises update.

The information from this article is up-to-date as of 23 July, 2018.
The subject of this article is from the Atlas Rises update.
The information from this article is up-to-date as of 23 July, 2018.
Polengdynendum 3-NEBRO is a planet in No Man's Sky.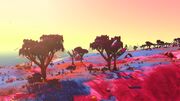 Polengdynendum 3-NEBRO is a medium-sized planet in the star system of CF8Afg6G-023 Tisamelm on the PC version of No Man's Sky universe.
Its distance to the system's station is about 1,057 ks.
Day
15.3 °C
1.8 Rad
16.0 Tox
Night
34.5 °C
1.9 Rad
7.8 Tox
Storm
108.6 °C
0.1 Rad
3.5 Tox
Water
33.9 °C
1.2 Rad
18.2 Tox
Caves
33.4 °C
1.9 Rad
12.6 Tox
Polengdynendum 3-NEBRO features Kelp Sac, Star Bulb, Gold and Copper.
Polengdynendum 3-NEBRO is devoid of any fauna.
At least 24 flora varieties exist on Polengdynendum 3-NEBRO.
Name
Image
Age
Root structure
Nutrient source
Notes
Elements
Trees
Urdoe Urtuscia
Unknown
Independent
Sunlight
Spongy Coating
Carbon
Aseisera Xisillus
Moderate
Gravitational
Lost Insects
Metallic Nodules
Carbon
Avumae Agnionitera
Fully Grown
Swamped
Carbon Absorption
Delicious
Carbon
Radon
Bushes
Nuestica Egardentus
Ancient
Concentrated
Carnivorous
Oily Seeds
Carbon
Coprite
Syraspea Panariussima
Decades
Complex
Aerobic Digestion
Flakey Coating
Carbon
Sulphurine
Shrubs
Eclataea Uduleium
Fresh
Obtuse
Air Leaching
Durable Fruit
Carbon
Ioanea Nevitus
Fresh
Mobile
Parasitic Leaching
Translucent Nuts
Carbon
Itiesia Odekerae
Mature
Simple
Infrared Radiation
Pleasing Aroma
Carbon
Susummica Losfacima
Decades
Capacious
Rock Enzymes
Airborne Seeds
Carbon
Flowers
Bitinera Kebbarum
Advanced
Sentient
Carnivorous Roots
Hidden Tentacles
Carbon
Paagae Ueizea
Centuries
Bi-directional
Soil Bacteria
Slowly Rotting
Carbon
Mordite
Grasses
Quyseus Orpetum
Mature
Stunted
Moonlight
Translucent Nuts
Carbon
Radon
Underwater
Rediae Waddreisii
Ancient
Mobile
Ultraviolet Radiation
Unpollinated
Carbon
Usbaium Duberia
Mature
Parasitic
Photosynthesis
Genetically Diverse
Carbon
Keydonae Ruzikoe
Indeterminate
Hidden
Osmosis
Hydrophilic
Kelp Sac
Aidaciea Hariarus
Several Days
Polygonal
Photosynthesis
Hollow
Carbon
Dajecea Opiae
Fresh
Complex
Radiotrophic
Odourless
Carbon
Sulphurine
Euphosa Uwardusium
Moderate
Many-Limbed
Carbon Absorption
Meaty Roots
Carbon
Carnivorous flora
Kimmae Coyonium
Sproutling
Simple
Liquid Ammonia
Whispering Leaves
Carbon
Caves
Dutumera Townseqium
Sproutling
Significant
Carnivorous Roots
Succulent Tubers
Marrow Bulb
Bombus Oxybea
Fresh
Not Present
Geological Energy
Choking Scent
Marrow Bulb
Resource flowers
Noktonae Foligum
Mature
Desiccated
Gas Clouds
Partially Developed Eyes
Thamium9
Eylopea Lotrae
Fully Grown
Swamped
Photosynthesis
Vigorous
Zinc
Yviius Rulonosa
Young
Balanced
Carbon Absorption
Glowing Tubers
Platinum
There are 24 known mineral formations on Polengdynendum 3-NEBRO.
Name
Image
Metal content
Formation process
Notes
Elements
Above ground
Odtseite
78 %
Evaporation
Hogh Viscosity
Detritum
Gadiasite
44 %
Pyroclastic
Extreme Salt Content
Detritum
Nusforite
66 %
Living Stone
Buoyant
Detritum
Akobeite
78 %
Spontaneous
Sulphurous
Iron
Noboroite
48 %
Ammonia Groundwater
Mimic
Iron
Zinc
Adgolite
43 %
Metal Vapour
Faintly Luminous
Iron
Heridium
Underwater
Camphaite
77 %
Sedimentation
Yeast Colony
Detritum
Gihemicite
77 %
Metamorphic
High Viscosity
Detritum
Efellirite
53 %
Tectonic
Contains Organic Matter
Detritum
Pumpeite
53 %
Living Stone
Strong Odour
Detritum
Oferoite
72 %
Comet Fragment
Extreme Salt Content
Detritum
Afossmite
56 %
Vented Minerals
Molten Core
Detritum
Emihedite
56 %
Low Energy Reaction
Moss Habitat
Detritum
Nedsteite
79 %
Low Energy Reaction
Melts Easily
Iron
Truvenite
47 %
Ancient Tidal Erosion
Quartz Core
Iron
Zinc
Luberite
44 %
Gas Humidity
Abrasive
Iron
Platinum
Usmalite
69 %
Soil Amalgamation
Slow-Forming
Iron
Aluminium
Rotzeraite
63 %
Tectonic
Mimic
Iron
Copper
Aphaelsite
51 %
Wind Erosion
Artificial
Iron
Thamium9
Caves
Usleynite
51 %
Magnetic Attraction
Feldspar
Iron
Thamium9
Ootemiite
68 %
Jet Pressure
Biologically Active
Detritum
Huntomenoite
69 %
Soil Compaction
Hydrophobic
Iron
Aluminium
Liyonskite
74 %
Gas Bubbles
Partially Invisible
Iron
Emeril
Tuperite
60 %
Pyroclastic
Low Specific Gravity
Iron
Iridium