Samone Star Cruiser
| | |
| --- | --- |
| | This section is Fan Fiction. The information found here is not an actual part of the released game, but a user-invented addition to the wiki. |
This section is Fan Fiction. The information found here is not an actual part of the released game, but a user-invented addition to the wiki.
A Samone Star Cruiser is a CivSpace ship in No Man's Sky.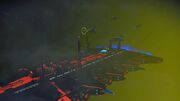 The Samone Star Cruiser was first commissioned by the Samone Corporation once all the trade routes were set. It was bought out while the Corporation was on a rescue mission in the Rejkisere Anomaly. Once The Resistance was created, the Samone Corporation set about building a fleet, using this cruiser as the capital ship. Each one (Class C) is priced around 22 million units.