Tanpolchardy 2-OYNE
The subject of this article is from the Atlas Rises update.

The information from this article is up-to-date as of 23 July, 2018.
The subject of this article is from the Atlas Rises update.
The information from this article is up-to-date as of 23 July, 2018.
Tanpolchardy 2-OYNE is a planet in No Man's Sky.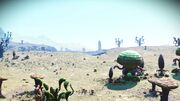 Tanpolchardy 2-OYNE is a small planet in the star system of CF8Afg6G-074 Joqeld with extreme surface conditions on the PC version of No Man's Sky universe.
Its distance to the system's station is about 814 ks.
Day
44.2 °C
1.3 Rad
105.7 Tox
Night
29.2 °C
0.9 Rad
105.5 Tox
Storm
17.7 °C
1.8 Rad
113.5 Tox
Caves
23.5 °C
1.6 Rad
21.0 Tox
Tanpolchardy 2-OYNE features Fungal Mould, Gold and Iridium.
Tanpolchardy 2-OYNE houses 8 species of fauna. A full zoology scan awards a 200,000 Unit bonus.
Name
Image
Genus
Rarity
Temperament
Diet
Gender
Weight
Height
Land
Lafaleumima Amchin
Lok
Rare
Amenable
Vegetation
Female
218.76 kg
4.76 m
Asymmetric
215.21 kg
4.72 m
Ixtiliqeumeus Catyla
Lok
Uncommon
Cautious
Oxide elements
Exotic
117.81 kg
1.90 m
Prime
103.98 kg
1.71 m
Bavasatoriae Catyla
Lok
Uncommon
Timid
Absorbed nutrients
Unknown
120.35 kg
1.71 m
Vectorised
106.85 kg
1.69 m
Esiserae Catyla
Lok
Uncommon
Cautious
Vegetation
Rational
78.91 kg
1.55 m
None
73.68 kg
1.43 m
Umredareumia Xuclus
Lok
Rare
Fearful
Vegetation
Vectorised
74.63 kg
1.09 m
Symmetric
67.62 kg
1.06 m
Air
Omionuseumima Aebes
Oxyacta
Rare
Unpredictable
Grazing creature
Non-uniform
192.39 kg
3.50 m
Menimiium Mydonno
Agnelis
Common
Hibernator
Herbivore
Female
81.29 kg
1.05 m
Caves
Ladamnatimae Gifur
Bos
Uncommon
Unpredictable
Insect-eater
Radical
127.44 kg
2.06 m
Vectorised
115.06 kg
1.93 m
At least 21 flora varieties exist on Tanpolchardy 2-OYNE.
Name
Image
Age
Root structure
Nutrient source
Notes
Elements
Trees
Leptus Ovialea
Young
Circular
Infrared Radiation
Tiny Hairs
Carbon
Mushrooms (large)
Mipelum Eorgae
Fresh
Restricted
Gamma Rays
Mono-Seasonal
Carbon
Negnitium Imnonia
Young
Extendable
Gas Clouds
Four Dimensional
Carbon
Davae Withorareum
Fresh
Knotted
Gas Clouds
Partially Developed Eyes
Carbon
Otachium Odosindosium
Fully Developed
Unsupported
Photosynthesis
Fragile Stems
Carbon
Stem plants
Socania Kirettatus
Seasoned
Far Reaching
Gas Clouds
Crystalline Flowers
Carbon
Nuramea Ideusillis
Fully Grown
Obtuse
Sunlight
Internal Branches
Carbon
Yanteae Lecrattus
Still Growing
Parasitic
Atmospheric Moisture
Inedible Petals
Carbon
Agotum Biveum
Cyclical
Inorganic
Ultraviolet Radiation
Irresistible Seeds
Carbon
Ziamcea Poterramera
Mature
Inorganic
Radio Waves
Bitter Stems
Carbon
Mushrooms (small)
Munipria Ertum
Sproutling
Regular
Entrapment
Hollow
Carbon
Immus Cotioe
Moderate
Simple
Anaerobic Digestion
Slowly Rotting
Carbon
Lelinium Okilkia
Millenia
Efficient
Atmospheric Moisture
Faintly Singing
Carbon
Iforosa Wudenum
Mature
Efficient
Decomposition
Vigorous
Carbon
Carnivorous flora
Inalia Onesum
Ancient
Omni-Directional
Proton Recycling
Blight Resistant
Carbon
Caves
Englavea Ohorea
Fresh
Concentrated
Heat Recycling
Stinging Fruit
Carbon
Nitrogen
Oegiumima Kaharosum
Sproutling
Substantial
Parasitic Leaching
Retractable Fronds
Marrow Bulb
Rylamis Ibalblum
Young
Significant
Salt Fusion
Extraterrestrial
Marrow Bulb
Resource flowers
Vomburae Sivumeum
Fresh
Widespread
Underground Bubbles
Inedible Petals
Thamium9
Sunium Eudoneum
Indeterminate
Many-Limbed
Entrapment
Spreading Tubers
Zinc
Suagium Frideusium
Infant
Linear
Carnivorous
Movement Prone
Platinum
There are 11 known mineral formations on Tanpolchardy 2-OYNE.
Name
Image
Metal content
Formation process
Notes
Elements
Above ground
Rowerite
63 %
Photonic
Recently Formed
Detritum
Arnarsite
59 %
Vented Minerals
Eroded
Iron
Iridium
Intescite
50 %
Bedrock Expulsion
Frozen Centre
Iron
Thamium9
Licotupite
54 %
Atmospheric Metal
Contains Organic Matter
Iron
Plutonium
Oxferite
50 %
Polymerisation
Superconductive
Iron
Thamium9
Aquiriite
70 %
Magnetic Attraction
Faint Life Signs
Iron
Aluminium
Antokite
76 %
Explosive Magma
High Surface Temperature
Iron
Caves
Umminite
43 %
Ancient Tidal Erosion
Partially Invisible
Iron
Heridium
Ibsechite
41 %
Magnetic Attraction
Potentially Synthetic
Detritum
Sommarisite
68 %
Ancient Tidal Erosion
Slow Moving
Iron
Aluminium
Iensoite
76 %
Plant Deposits
Partially Invisible
Iron