As part of the Unified Community Platform project, your wiki will be migrated to the new platform in the next few weeks. Read more here.
WARPWAY
The subject of this article is from the Synthesis update.

The information from this article is up-to-date as of 18 February, 2020.
The subject of this article is from the Synthesis update.
The information from this article is is up-to-date as of 18 February, 2020.
WARPWAY represent a series of space routes.
Summary
NOTICE: Due to a large amount of content being removed without explanation by an anon editor, this page is now locked unless a regular user ID is used.
The completed and fully functional W<RPW>Y or WY space routes are inspired by many player projects, (such as pahefu's Pilgrim Star Process) and are meant to inspire more use or creation of player projects, while adding endgame challenge.
"The Warpway is created as a 'thank you' to Hello Games and as a gift by a NMS gamer for NMS gamers; it is free for all! Add to the W<RPW>Y and its Wiki page whatever you like while respecting each other. After sharing my ideas and completing the WY I choose not to be involved in its direction or any other project. Build your projects, promote what you want, it can have many uses, names, logos, styles, etc. The Warpway has no rules."


- Yokunedo(PSN): the Creator, Founder and Engineer of the Warpway.
The Vision of the W<RPW>Y : Explore - Create - Connect for all the Travelers of No Man's Sky!
Description
Imagine a Tunnel in space between the Galaxy Center to the Xenon Capital- In this said Tunnel are Points (These are star systems with a Name - Example: CH 2100LY 0319 bh JUMP 185.83* RIGHT). Each Point is 2100 light years apart and follows the path of the tunnel. This allows you to use a starship or freighter and jump to each point and follow the path of the tunnel.
To Find the Points on your Galactic map in your freighter or starship - you will need to use the NMS WARPWAY Technique ( This technique Works perfectly)- it is best to have the Atlas Path Completed to located blackholes on the Galactic Map.
Each Point Has a Blackhole in the system or Blackhole near the system - this allows you to easily locate each point while looking in the Galactic Map
Warpway 1 (Hilbert) Original
WARPWAY 1 (Hilbert) is the first of two warpways built by Yokunedo on the PS4. It was built with the support of others from the player group called Gathering (Zombibrain83, Gimpotence and more) starting at Hilbert's Center. This was two years before traveling back to Euclid was possible. It has been promoted on reddit as the Hilbert Warpway by InfinityDrags NMS info specialist.
Warpway 2 (Euclid) Current 2020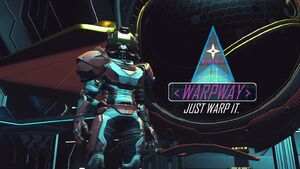 Warpway's Original Founder: [Yokunedo]- deserves our thanks for all the hard work and mapping of all the black holes.
New Founder: [Founder Position Available]
Engineer/Sponsor: PS4: [DarthKannabis2]--Xbox: [DarthKannabis3]
Scientist/Sponsor: [Dimentionus]
Join! PS4, PC and XBOX at our Discord channel or visit us on our Youtube Channel.
WARPWAY 2 (Euclid) is a series of 319 named but unexplored local systems surrounding the Black Holes which line up in a row called Warp Points (not counting start and milestones) about 672,000 light years long, This full path showing the way to the Galactic Hub (not officially endorsed by the Warpway Project) though It still remains as a great destination after reaching our guild's Capital Planet Xenobia that resides near blackhole access point (AP) 100.
The Guide will be updated soon with the future Xenobia Capital instead of the original Galactic Hub location. The 219 unofficial extra black holes exist solely so you can navigate from Xenobia to G-Hub but are not officially a part of Warpway.
Warpway 2 Starting Access Point: Xenon Trade Colony-Portal Glyph Address: 21EBFA007FFC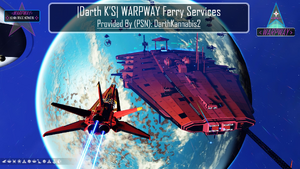 NOTE: Completing the Atlas Path will allow Black Holes to show on the Galactic Map - This provides assistance on locating the Access Point Systems within the WARPWAY 2.
Question: What is the Warpway's closest blackhole or access point (AP) to the Xenobia Capital?
Answer: Near blackhole Access Point (AP) 100. The first challenge for any Warpway Traveler is to discover and reveal the system names to others and learn the pilgrim star path an app made for localizing a player in NMS universe, BlueHazeMay for example is creating his own Access Point system and mapping each in the the Warpways Discords #bhs directory, #civilizations page come help us map the galaxy and also explore a vast area of space.
Starting & Ending Access Ports
Guide & Information
WARPWAY Community
Come and visit us in our Discord channel.