Waratturageess 4-MOBHA
The subject of this article is from the Atlas Rises update.

The information from this article is up-to-date as of 23 July, 2018.
The subject of this article is from the Atlas Rises update.
The information from this article is up-to-date as of 23 July, 2018.
Waratturageess 4-MOBHA is a planet in No Man's Sky.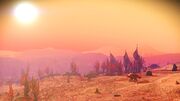 Waratturageess 4-MOBHA is a small planet in the star system of CF8Afg6G-049 Hebelther with extreme surface conditions on the PC version of No Man's Sky universe.
Its distance to the system's station is about 1,237 ks.
Day
107.5 °C
0.7 Rad
2.9 Tox
Night
89.3 °C
1.2 Rad
12.5 Tox
Storm
324.2 °C
1.3 Rad
9.4 Tox
Water
54.6 °C
0.8 Rad
8.5 Tox
Cave
48.6 °C
0.1 Rad
5.3 Tox
Waratturageess 4-MOBHA features Radnox, Solanium, Gold and Iridium.
Waratturageess 4-MOBHA houses 11 species of fauna. A full zoology scan awards a 275,000 Unit bonus.
Name
Image
Genus
Rarity
Temperament
Diet
Gender
Weight
Height
Land
Elbrubothiia Dusec
Procavya
Rare
Amenable
Oxide elements
Asymmetric
249.26 kg
5.97 m
Indeterminate
259.48 kg
6.05 m
Asvesosae Dusec
Ungulatis
Rare
Ambulatory
Vegetation
Prime
262.91 kg
5.84 m
Rational
255.46 kg
5.83 m
Kournusis Hitly
Tetraceris
Uncommon
Skittish
Grazing creature
Symmetric
101.99 kg
1.74 m
Vectorised
91.89 kg
1.54 m
Teysaeum Hitly
Ungulatis
Uncommon
Skittish
Absorbed nutrients
Alpha
93.14 kg
1.47 m
Radical
79.95 kg
1.38 m
Pesopimae Ilgeor
Felidae
Uncommon
Predator
Insect-eater
None
108.36 kg
1.50 m
Rational
93.59 kg
1.32 m
Owendruseus Kuvis
Tetraceris
Common
Prey
Grazing creature
Alpha
35.13 kg
1.03 m
Male
30.75 kg
1.01 m
Rachoeum Kuvis
Tetraceris
Common
Shy
Absorbed nutrients
Asymmetric
48.05 kg
0.81 m
Female
54.47 kg
0.92 m
Koannerae Kuvis
Felidae
Common
Prey
Herbivore
Alpha
96.48 kg
0.74 m
Female
85.72 kg
0.62 m
Air
Nizibeliium Aukr
Agnelis
Common
Unpredictable
Herbivore
Female
43.91 kg
0.69 m
Water
Vadimiumus Isrob
Ictaloris
Common
Shy
Herbivore
Female
71.48 kg
0.83 m
Yoglomiumii Isrob
Ictaloris
Common
Shy
Herbivore
Unknown
31.54 kg
0.63m
At least 13 flora varieties exist on Waratturageess 4-MOBHA.
Name
Image
Age
Root structure
Nutrient source
Notes
Elements
Trees
Remelima Nuusus
Moderate
Independent
Membrane Compression
Faintly Singing
Carbon
Atrarium Koupoe
Ancient
Obtuse
Salt Fusion
Oily Seeds
Carbon
Flowers
Negidus Kingeus
Advanced
Polygonal
Underground Bubbles
Umbral Sprouts
Carbon
Shrubs
Nethoe Torqia
Mature
Independent
Fungal Symbiosis
Haunted Nests
Carbon
Icyoe Ovoleum
Advanced
Hidden
Carnivorous
Irresistible Seeds
Carbon
Ferns
Ipiumpii Ribirea
Mature
Many-Limbed
Soil Bacteria
Blight Resistant
Carbon
Mordite
Underwater
Croellus Apisum
Seasoned
Complex
Photosynthesis
High Metal Content
Carbon
Sulphurine
Carnivorous flora
Babasera Nejectia
Infant
Fungal
Aerobic Digestion
Blight Resistant
Carbon
Coprite
Marrow bulb
Lusatosa Uessica
Decades
Fungal
Radio Waves
Genetically Diverse
Marrow Bulb
Xupeleum Onquotii
Sapling
Widespread
Other Plants
Psychotropic Leaves
Marrow Bulb
Resource flowers
Requadium Edrae
Timeless
Circular
Geological Energy
Luminous Bulbs
Thamium9
Tajactii Rechiae
Fully Developed
Global
Cosmic Radiation
Stinging Fruit
Zinc
Auctii Buffameus
Centuries
Not Present
Free Radicals
Extremely Poisonous
Platinum
There are 21 known mineral formations on Waratturageess 4-MOBHA.
Name
Image
Metal content
Formation process
Notes
Elements
Above ground
Nischite
52 %
Localised Black Hole
Infested
Detritum
Fotintzite
64 %
Gas Bubbles
Frozen Centre
Detritum
Sobecquite
48 %
Sedimentation
Faint Life Signs
Detritum
Katasowite
70 %
Old Bones
Potentially Explosive
Iron
Aluminium
Oechtongite
69 %
Sedimentation
Molten Core
Iron
Aluminium
Mirostine
74 %
Metamorphic
Geode Rich
Iron
Emeril
Uenthite
70 %
Ammonia Groundwater
Toxic Dust
Iron
Aluminium
Egradite
52 %
Animal Deposits
Contains Water
Iron
Thamium9
Woyllopite
75 %
Wind Erosion
Industrially Valuable
Iron
Emeril
Water
Onshancite
52 %
Localised Black Hole
Infested
Detritum
Ujolseite
64 %
Sedimentation
Feldspar
Iron
Copper
Rogentime
50 %
Evaporation
Faintly Luminous
Iron
Thamium9
Woyheeite
61 %
Sedimentation
Powerful Heat Source
Iron
Copper
Bigcreite
71 %
Ammonia Groundwater
Frozen in Time
Iron
Aluminium
Vavreite
66 %
Ground up Shells
Audiophobic
Iron
Nickel
Daniuite
58 %
Reductive Boiling
Extrusive
Iron
Iridium
Caves
Udashine
44 %
Old Bones
Parasite Host
Detritum
Augelite
43 %
Magnetic Attraction
Shatter Resistant
Iron
Heridium
Oceruite
75 %
Calcified Fauna
High Surface Temperature
Iron
Ulcardyite
64 %
Gas Bubbles
Gravitational Bonds
Iron
Nickel
Ibullite
59 %
Bedrock Expulsion
Molten Core
Iron
Iridium