Xenoarcheology
The subject of this article is from the initial release.

The information from this article is up-to-date as of 25 November, 2016.
The subject of this article is from the initial release.
The information from this article is up-to-date as of 25 November, 2016.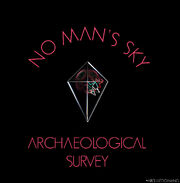 Xenoarcheology is a form of archaeology that has origins in the world of science fiction. It is intended to study the remains of alien civilizations and reconstruct their history. Several groups are planning to use this method of study in the universe of No Man's Sky to scientifically record and study the lore, history, and background of the planets and artifacts found there.
Archaeonauts
The Archaeonauts are one of these groups. There are professional archaeologists and students who plan to survey the gaming universe of No Man's Sky. In response to the question, "What is the No Man's Sky Archaeological Survey?", Andrew Reinhard says on their website:
The No Man's Sky Archaeological Survey (NMSAS) is an attempt by real, trained, professional archaeologists and archaeology students to conduct the first archaeological survey of a procedurally generated universe containing procedurally created material culture (lore, artifacts, built environments, manipulated landscapes, modern buildings, ruins, etc.). We want to determine what machine-created cultures look like, applying archaeological methods used in the real world to a virtual space. We are also keen to see what kind of emergent behaviors are created through our interaction with this complex, boxed universe created from hundreds of thousands of lines of code. [1]
Archaeogaming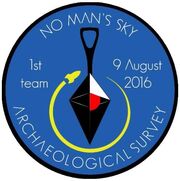 The Archaeogaming team's stated method of attack is to "start with what we know. And while for many of the games we have played in the past, and for many contemporary games it is impossible to do any kind of real "dirt archaeology", we can begin to explore these spaces, mapping them, filming and photographing them with software tools, creating typologies of coins and pottery, examining mortuary habits, defining religious accouterments and documenting rituals, and coming at these places like most gamers do, with a sense of the vaguely familiar (i.e., knowing what a dwelling is, but not necessarily what it might look like in a gaming world), but with an open mind and an eye for recording detail." [2]
The group intends to do three months of active surveying to develop usable tools, then open the survey for general use. While initial reports will be published three months after launch as well as a year into the project, data collection via crowdsourcing will continue by those wish to keep going for as long as No Man's Sky is available.
Social Media
Recommended Twitter accounts:
@NMSarchaeology - No Man's Sky Archaeological Survey (#NMSAS). News, survey data, archaeology, and more. Launching August 9, 2016.
@Archaeogaming - Dedicated to exploring archaeology both of and in video games. No Man's Sky, Elder Scrolls, World of Warcraft, and more!
References